It's always good to have options. A true statement no matter where you sit, but it's especially true within the world of chemical and hazmat freight shipping.
Whether you're new to the transportation side of things or a seasoned pro, you know you can partner directly with a carrier to move your products. But you have another option. In this article, we'll examine some of the advantages that freight brokers offer in transporting your chemical and hazmat products.
6 freight broker advantages for shipping hazmat freight
1. A freight broker has a national network. When you partner with a carrier, you're limited to that carrier's lanes, equipment, drivers, and rates. However, when you partner with a freight broker that utilizes a large national network, you can match your loads with (typically) hundreds of carefully vetted bulk freight carriers with a single phone call.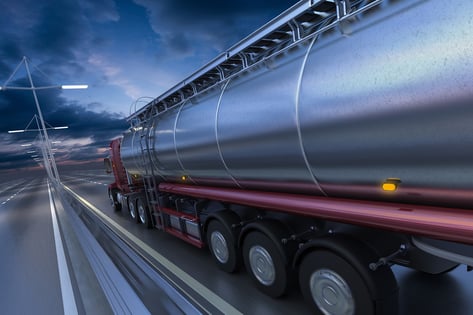 Such a network can expand your shipping lane options and drive carriers to offer competitive rates for your business. This network can also be an invaluable resource during times of tight capacity when your regular carrier may be unable to offer the service levels you require. And, unlike load boards, your freight broker will work with you to manage shipment details.
2. A freight broker can quote multiple modes at once. When shipping chemical and hazmat freight, you may be looking for liquid bulk or dry bulk rates. You may also have temperature-controlled, drayage, or rail-to-truck intermodal requirements. Instead of contacting multiple carriers for various rates, you can contact one freight broker that provides all these services. The broker can then provide you with all the quotes you need – or better yet, one quote for everything – quickly.
3. A freight broker can thoroughly vet carriers. The act of acquiring rates from multiple carriers can be a time-consuming process. And, even after you find the rates you like, it's then time to vet those carriers. This involves acquiring information related to insurance, operating authority, driver certifications, hazmat information, and much more. This also takes a great deal of time.
As with rate quotes, however, brokers can minimize or even skip the entire process. At Bulk Connection, for example, we have an entire team solely dedicated to carrier compliance. We manage this information for all the carriers we work with. We ensure that the information is current, and we will never tender your product to a carrier that doesn't meet our stringent requirements. So, when you call for a rate quote, you can be assured that any carrier we select has been carefully vetted.
4. A freight broker is objective. When you work directly with a carrier, that carrier is compelled to handle your project using its own trucks and equipment – regardless of whether those trucks and equipment are optimal for the job. When you work with a freight broker, on the other hand, the broker has no such bias. The broker is free to match your load with the most qualified carrier without any other considerations getting in the way.
5. A freight broker can handle blind shipments. Many chemical companies choose to ship products 'blind.' In such instances, the Bill of Lading may show the name of the distributor or be left blank – instead of showing the name of the actual shipper. In other cases, 'double blind' shipments may be requested. With these shipments, both the shipper and receiver are confidential. No matter what your specific needs are, freight brokers that specialize in chemical shipping can handle blind shipments for you just as expertly as your day-to-day carriers would.
6. A freight broker has product expertise. Freight brokers that specialize in chemical and hazmat freight often have equal or greater knowledge of your products than carriers. At Bulk Connection, for instance, we've been handling chemicals for well over 30 years – and most of our sales agents have been in the industry for many years.
So, no matter what you're shipping, a freight broker with this level of expertise has likely handled it before – and handled it often. Your broker then knows exactly what to look for in a carrier to ensure the job is handled safely and effectively. Even if you're unsure of key details, your freight broker can work with you to identify them.
From review of product information and Safety Data Sheets (SDS) to equipment selection and load/unload details, expert freight brokers can guide your shipments from start to finish.
To learn about more advantages of using freight brokers for hazmat freight or to learn more about freight broker capabilities, contact Bulk Connection today.