When it comes to using rail for dry bulk transportation, I like to envision the process as an oval. The product travels from production to the distribution point and back again in a repeating cycle. There are the same number of railcars going out for distribution as there are coming back to production. It can often seem like the very model of a balanced and efficient supply chain operation.
But what happens when this pattern is interrupted by a problem with the rail service? How would this affect your operation? In this article, we'll look at some of the key considerations and tactics to keep your supply chain moving when rail service is disrupted.
To wait or not to wait…that is the question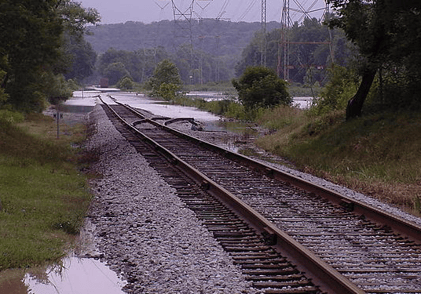 When a rail interruption occurs, your first option is to simply wait for service to be restored. Depending on the severity of the interruption and the location where it occurred, your wait could be a long one. Let's take a hurricane, for example. You'll have to wait for the storm to pass, for flooding (if any) to subside, and for the tracks to be cleared. You'll then need to wait for the railcars to be inspected for damage and either cleared for return to service or replaced, all of which can take quite a while. In short, if the products handled by your rail operation can't afford to be offline for several days or even a week or more, then waiting isn't your best option.
Your next option is to have trucks fill in the gap caused by the interruption. Dry bulk trucks can receive your loads from the railcars and make their way to your destination(s). This is an attractive option that can get your dry bulk shipping operation back in motion quickly. There are a few key considerations, however:
Cost. Just as 1 railcar can carry the equivalent of about 4 trucks, the cost of those 4 trucks is going to be much higher than the cost of 1 railcar. Depending on the cause of the rail interruption, however, you may be reimbursed by the rail provider – making the cost of trucks largely a non-issue. When such reimbursement is not a possibility, some companies try to wait it out rather than pay for the necessary trucks, which brings us to…
Capacity. In this tight-capacity market, trucks are busy. They're constantly in motion – not waiting for the phone to ring. Because of this, securing capacity can be a challenge. It becomes much more of a challenge if you try waiting out the interruption until your operation reaches a crisis point where trucks are needed immediately. "Immediately" is not a word you'll have much success with in this trucking climate. If you choose to wait for the interruption to be restored, your best bet is to give yourself a cutoff date that – if rail service isn't restored by that point – will still give you several days to source truck capacity.
Logistics Provider. When it comes time to sourcing capacity, you can try trucking companies in the region and see if they have capacity. You can also turn to national freight brokers who specialize in dry bulk transportation. The advantage of the national providers is that they give you more options. There may not be local trucks available within 200 miles of the interruption, but there could be several trucks less than 600 miles away. National providers can secure these trucks for you and get them on their way to your load quickly.
Consider a rainy-day stock
The question of waiting it out or securing trucks will largely hinge on how dire the interruption's impact is on your supply chain. If you have a "rainy-day" stock of your products in storage, you can keep your product moving – albeit in smaller volumes – until your bulk goods are back in motion. This makes the interruption period less dire and may allow you to wait for restoration of service a little longer. Many dry bulk products like powders can be bagged and palletized and sit at the ready in storage for when a disruption strikes.
Lean on Bulk Connection for emergency dry bulk transportation
When an interruption hits and waiting for rail service to be restored is no longer an option, lean on Bulk Connection to get your product in motion quickly and safely. With one of the largest networks of bulk carriers in North America, we can secure capacity for your operation – emergency or otherwise – wherever you need it. To learn more, contact Bulk Connection today.