With supply chain disruptions and the driver shortage affecting the trucking industry, many shippers have turned to intermodal rail as a CO2-friendly alternative. According to the Association of American Railroads (AAR), intermodal rail volumes were up 5.3% in 2021 compared to 2020. In this article, we'll look at how bulk freight brokers can help with the over-the-road (OTR) segment of a bulk product's intermodal journey.
Understanding intermodal freight transport for bulk products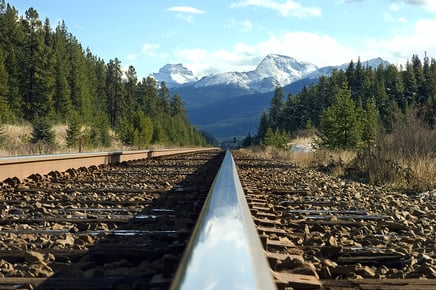 With intermodal freight transport, a big stretch of a product's journey typically occurs on rail, while the remainder is handled by OTR trucks.
Bulk shipments that utilize domestic rail transport can be transported in ISO tank containers, specialized "bulk-tainers," or bulk powder tanks and then offloaded onto a truck chassis for final delivery. These containers (except for bulk-tainers) can typically be stacked two-high during rail transport.
In most cases, however, bulk products will be transported in bulk railcars – whether bulk rail tanks for liquid products or bulk rail hoppers for dry bulk. From there, product is delivered straight to the consignee or offloaded into liquid or dry bulk trucks for OTR transportation. These bulk railcars are an efficient – though slower – form of transport. For example, the average bulk rail tank can hold the equivalent of 4 ISO tank containers.
4 ways that 3PL freight brokers can handle intermodal freight trucking moves
1. North American-wide coverage
If you have shipments arriving at ports and rail stations all over the country, you could spend a lot of time and resources partnering with individual carriers in each of those areas to handle your loads. Conversely, you can secure capacity for all of your locations with one call to a freight broker that has a North American-wide network of carriers. Your broker will then match your loads to the appropriate carriers in its network based on your product and shipment details.
2. Assistance when your railcar(s) doesn't "make the switch"
The rail lines will regularly change tracks at switching yards to send certain shipments forward while holding others in a container yard. The shipments that are held in the yard can be there for days or even weeks, causing significant disruption to your schedule. Sometimes, these long delays can even cause manufacturing plants to shut down as they await shipments.
Bulk freight brokers can help in multiple ways. For starters, a freight broker can secure trucks to come in and offload product from the stuck railcar onto OTR liquid bulk tanks or dry bulk trailers and then transport the freight to the destination. Alternately, if you have the same product or similar product stored elsewhere in the country, a freight broker can hire trucks to pick up that freight and haul it to the destination while the railcar is out of commission.
3. Ability to handle emergency interruptions
While your freight is often at the mercy of rail line scheduling, the rail lines themselves are often at the mercy of Mother Nature. When normal rail service is interrupted by storms and other hazardous events, you can partner with a bulk freight broker for emergency freight assistance. Such a freight broker can source trucks from far and wide to get your products off immobile railcars and into bulk tanks or trailers and then on to their destination(s).
4. Vetting of carriers so you don't have to
While finding individual carriers to haul your loads in the above situations can be a time and resource drain, managing all the necessary paperwork related to those carriers can tap those resources even further. From operating authority to insurance information, there is a lot of paperwork that needs to be recorded and kept up to date to ensure that your load can be transported safely. You can spend the time and energy to manage these details for every carrier yourself, or you can leave it to an expert freight broker to handle it for you.
Lean on Bulk Connection for intermodal freight trucking moves
When you're looking for a bulk transportation specialist to handle the OTR portions of your products' intermodal journeys, you need a provider with the expertise and capacity to get the job done right. Loading and unloading product between a bulk railcar and a liquid or dry bulk truck requires specialized equipment including pumps, hoses and fittings. Bulk Connection understands these equipment needs and can match the appropriate equipment to each of your loads.
And, when it comes to capacity, Bulk Connection has one of the largest networks of bulk trucking carriers in North America. So, no matter where your freight is moving – or where it's stuck – chances are we have carrier partners in the region to get your products onto trucks and on the road to their destination.
To learn more about the benefits of working with a bulk freight broker for intermodal freight transport, contact Bulk Connection today.