If you're shipping liquid bulk products, you are likely familiar with bulk liquid tankers, along with totes and drums that may routinely transport your products. What you may be less familiar with are ISO tanks – another transport option for liquid bulk shippers that is becoming increasingly popular. In this article, we'll introduce you to these tanks and tell you how ISO tank trucking companies can help you get your products in motion.
Introduction to ISO tanks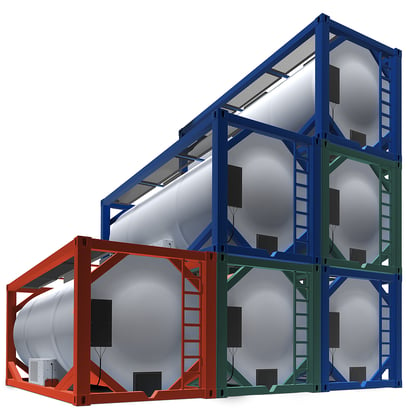 ISO tanks are steel cylinders that sit within a metal, wall-less box frame. They are given the name "ISO" tanks because they were designed in accordance with ISO standards from the International Organization for Standardization. ISO tanks are used to house bulk liquids, both hazmat and non-hazmat, for transportation and storage.
Design & construction
ISO tanks consist of a steel outer shell and typically include a liner (e.g., chemical liner, rubber lined, plating) that can be replaced during cleaning. Different liners are used for different products. For example, an ISO tank used for hazardous corrosives will likely have a different liner than a tank used for food products. The tank's fittings and valves can also be customized to manufacturer/shipper specifications.
Storage capacity
Most ISO tanks are approximately 20' long and 8' tall and can hold roughly the same amount of liquid as a standard liquid bulk tank. There are also 40' versions of the ISO tank that have a long, thin appearance.
Products stored
Nearly any liquid bulk product can be shipped in an ISO tank. Common products include chemical products, both hazmat and non-hazmat. These tanks have become a go-to option for products like corrosives that eventually wear down a tank's structural integrity. It's much cheaper to replace an ISO tank than an entire bulk tanker. Food-grade products and even Kosher food-grade products are also shipped in ISO tanks.
Tank storage
ISO tanks are typically stored at an "ISO depot," which is basically an outdoor warehouse with ISO tanks stacked high and wide. However, manufacturers and shippers may also store tanks on site.
Tank washing
ISO tanks can be washed out at a common tank wash facility. However, most tanks are cleaned and stored at ISO depots, where their liners can be replaced if necessary.
ISO tank trucking companies
ISO tanks are typically transported by drayage providers and carriers that receive chassis from 'power-only' companies. ISO tank trucking is also managed by 3PL freight brokerages that specialize in bulk freight.
Loading and unloading
The ISO tank will be loaded at the top or bottom using a pump or air compressor. The tank is typically filled at a plant, dropped onto a chassis (if plant has its own crane), and then shipped to an ISO depot by a transportation provider for storage or directly to the recipient facility. For plants that do not have a crane onsite, heavy-duty jacks can be used to move empty tanks onto the chassis before being filled.
For unloading, the carrier will typically use a pump or air compressor to unload the product from the tank's discharge valve. Some chassis are built so that the tank can tilt downward during the unloading process. After unloading, the empty tank will be returned to the ISO depot or the originating plant.
Advantages and disadvantages of ISO tanks for liquid bulk
Advantages
Transportation with ISO tank trucking companies is typically less expensive than regular bulk liquid tanks.
Companies are able to purchase or lease tanks that are solely dedicated to their product, thereby removing the risk of cross contamination.
While ISO tanks all share the same basic design, they can be customized according to a company's needs.
ISO tanks offer great stability for volatile products as there are few break points in the tank and less movement during transport compared to other liquid bulk modes.
ISO tanks are great for intermodal transport between OTR, rail, and ocean shipping, as the tank can simply be moved from one mode to the next.
Disadvantages
OTR moves are typically limited to short runs because drivers cannot secure backhauls (most ISO tanks are dedicated to one specific type of product) and must drive back empty. This is not cost-effective for carriers and thus they are typically reluctant to do long hauls.
Most carriers do not have the necessary equipment for loading and unloading ISO tanks, so it is incumbent upon the loading and unloading facilities to have all required equipment (hoses, fittings, pumps, air, and/or nitrogen gas).
Turn to a 3PL freight broker for ISO tank trucking
If you already work with a 3PL freight broker for liquid bulk tanker transport and/or transport within totes and drums, you can lean on that same 3PL partner to add ISO tank trucking to your operation's repertoire. Bulk Connection is a liquid bulk freight specialist with one of the largest networks of bulk carriers in North America. This network includes ISO tank trucking companies. If you'd like to learn more about incorporating ISO tanks into your transportation mix, contact Bulk Connection today.