As we finally change the calendar to 2021, we all hope to be turning the page on many of the challenges of 2020. This extends to the bulk freight trucking industry, which had its share of ups and downs in the past year. In this article, we'll briefly revisit some of those ups and downs and tell you what to expect in the new year.
Looking back at bulk freight in 2020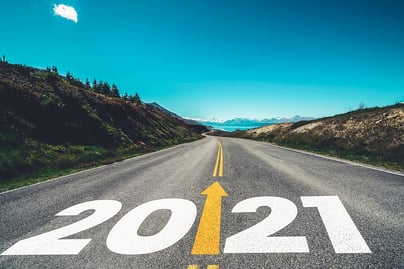 As with most industries, the bulk freight industry was hit hard by the COVID-19 pandemic. This resulted in an immense slowdown of shipping activity beginning in March. For many transportation providers, volumes were over 30% lower than they were the prior year. Fortunately, as the year progressed, shipping volumes began to return to normal levels.
The major caveat here, however, is that as volumes picked up, the capacity crunch became more evident.
Capacity: the biggest bulk freight challenge in 2021
Before 2020 began, we were in the midst of a driver shortage. This was/is caused by drivers retiring or otherwise leaving the profession, combined with an inadequate number of new drivers entering the industry. When demand for drivers is greater than the number available, a capacity crunch ensues.
The pandemic has made this capacity crunch much worse.
Many carriers struggled financially, especially in the early part of the pandemic. This led to driver layoffs. For the drivers unaffected by layoffs, many missed significant amounts of time due the pandemic – whether it was due to illness, exposure to an infected person, or home or childcare responsibilities. New FMCSA regulations related to drug use reduced the driver pool even further.
The pandemic also hurt efforts to bring new drivers into the industry as many driver schools and training programs either closed temporarily or had to drastically reduce the number of students due to social distancing requirements. On the plus side, there is now a push in the industry to attract, hire and retain drivers through initiatives such as wage increases.
Ultimately, the industry enters 2021 with capacity much tighter than it was a year ago. It is therefore projected to be a carrier's market this year, with higher transportation rates accompanying the capacity challenges.
Even with tight capacity, however, there are things that you can do to become a 'shipper of choice' with carriers and freight brokers to find the capacity you need. These include giving your transportation provider longer leads times when booking your loads and being flexible with loading and delivery appointments. For more ways to secure capacity in a tight market, check out our eBook: Sourcing Bulk Freight Capacity.
Additional 2021 bulk freight considerations
Elsewhere in the industry, experts are keeping an eye on diesel prices, which continue to rise and may affect freight rates this year.
There are positive signs as well. Purchases of trucks and equipment are on the rise and there is optimism that shipping, in general, can get back to pre-pandemic levels by the end of 2021. Growth is expected in all trucking segments, albeit with slower growth in the liquid and dry bulk sectors.
FTR Transportation Intelligence forecasts truck loadings to increase more than 5% next year — after a 4% decline in 2020. "The strongest increase is more than 6% for flatbed, but that segment also took the biggest hit this year," according to Avery Vise, FTR's vice president of trucking. "Dry van, refrigerated and specialized are forecast to grow about 6% over 2020. The outlook for bulk and dump is slightly weaker at about 5%. The weakest growth forecasted is for tank at 3%."
To paraphrase Bette Davis, fasten your seatbelts, it's going to be a bumpy year. 2021 may see the continuation of many of the stresses of 2020, but most analysts are optimistic that we'll be in very good shape toward the end of the year. Until then, keep an eye on our blog to stay informed on all things bulk-freight related, and contact Bulk Connection anytime you need a proven dry and liquid bulk transportation expert to support your supply chain.