As we get ready to turn the page on 2020, we want to first take a look back at the year that was. The following is a countdown of the year's 5 most popular blog posts as determined by our readers. There is a range of topics represented, but all aim to make shippers (and carriers) a little smarter about the ins and outs of bulk freight shipping.
Our 5 most popular blog posts of 2020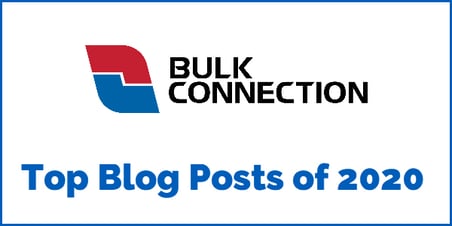 What does a freight broker do to add value for shippers? In this article, we explain how freight brokers can serve as key allies to shippers in getting bulk freight in motion. Some of the items covered in this article include advantages of working with freight brokers, working with freight brokers in addition to carriers, broker value-adds, misconceptions about freight brokers, and ways freight brokers can support shippers in the wake of COVID-19.
Dry bulk shipping 101 This article covers all the basics of dry bulk freight shipping. From equipment and loading and unloading processes, to shipper/receiver/carrier responsibilities and tank washes, this article has it all.
Carriers: work with bulk freight brokers to secure backhaul trucking Here's a little something for the carriers. As freight brokers work with carriers serving lanes all across the country, they know who's heading where and when – and with what. In this article, we explain how carriers can use this knowledge to their advantage.
10 Advantages of using a freight broker to find bulk freight carriers In this article, we highlight 10 advantages of working with freight brokers that specialize in liquid and dry bulk freight.
How to ship liquid freight While our mega article on dry bulk shipping was the second most popular post of 2020, its liquid bulk counterpart isn't too far behind. Like the dry bulk article, this blog post covers all the of the basics of liquid bulk freight shipping, including equipment, loading and unloading processes, and a handy chart on "who's responsible for what?" between shippers, receivers and carriers.
Thank you for reading this year. We wish you a happy and healthy holiday season, and we'll see you in 2021.