As 2022 kicks into summer mode, fuel costs in the US continue to increase and gas pumps all across the country are showing prices that were previously unthinkable. Freight shippers are especially mindful of all fuel-related costs including the trucking fuel surcharges of their 3PL and carrier partners. In this article, we'll explain what trucking fuel surcharges are and why fuel-related costs within the bulk transport industry may be slightly higher than in other transportation sectors.
What are trucking fuel surcharges?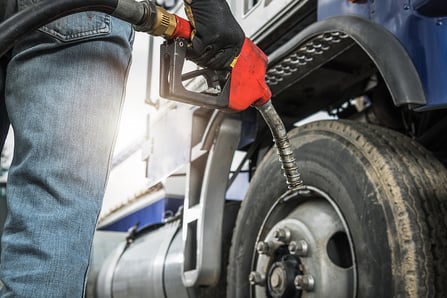 A trucking fuel surcharge is a fee that trucking companies add to each line haul to cover the cost of fuel. These surcharges are typically based on the current cost of diesel fuel as provided by the US Energy Information Administration [EIA].
The way that surcharges are calculated may vary across carriers and 3PL providers. But the basic math is simple: when carriers pay more for fuel, you pay more to have them move your freight.
At Bulk Connection – a 3PL freight brokerage specializing in liquid and dry bulk freight – our fuel surcharge is calculated as a percentage based on the current cost of diesel fuel. The higher the diesel cost, the higher the percentage factored into the surcharge.
We arrived at this rate schedule after studying the fuel surcharge percentages of the carriers in our network and finding a fair middle ground between the lower and higher rates. We monitor the EIA prices each week and adjust our surcharge percentage accordingly.
Accounting for fuel use in the bulk trucking industry
Bulk trucking is often more complicated than simply driving from point A to point B. It has a few characteristics which generally result in greater fuel use being factored into line haul rate quotes. For starters, the engine must be running when a tanker is loaded or unloaded using a pump or compressor. The engine is also running constantly when in-transit heating is in use. There are also trips to tank wash facilities that must be considered and, depending on where the unloading point is, the nearest tank wash may be quite a distance away.
All of these factors add up to longer engine use – and thus greater fuel use – than is required in other modes of trucking.
Turn to Bulk Connection for fair prices and capacity
In addition to adhering to a fair trucking fuel surcharge schedule, Bulk Connection is also home to one of the largest networks of liquid and dry bulk carriers in North America. When you work with us, you're effectively sourcing from this network and allowing us to match your freight and lane requirements with the capabilities of our trusted carriers. To learn more about working with a true bulk freight specialist, contact Bulk Connection today.