As we've reached the midway point of 2022, not a lot has changed in the bulk freight industry in terms of capacity from the first quarter or from 2021 as a whole. In this update, we'll share what we're currently seeing in the bulk freight marketplace, and what shippers can do to take advantage of current conditions.
Bulk freight market conditions: Q2 2022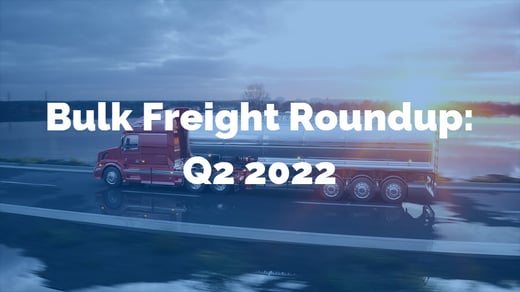 The recently-released Trucking Conditions Index (TCI) from FTR Transportation Intelligence shows that trucking industry conditions improved in April after declining in March. Specifically, the April TCI rose to 3.21 after falling to -7.38 the previous month – it's lowest value since July 2020.
The TCI is based on five US truck market conditions: freight volumes, freight rates, fleet capacity, fuel prices, and financing costs. A positive score shows favorable conditions for trucking companies, while a negative score shows unfavorable conditions.
According to Avery Vise, the FTR's VP of Trucking, "Recent strong gains in trucking's payroll employment support our analysis that freight demand has remained solid." He added that "driver availability no longer is the key issue to watch in trucking conditions; increasingly, the principal question will be the resilience of freight demand."
While we strongly feel that the truck driver shortage is still a major concern within the industry, we do agree that freight demand is a key metric to watch.
Fortunately, there is more good news on that front – and within the bulk freight industry specifically.
At the recent National Tank Truck Carriers' 2022 Annual Conference, Bob Costello, Chief Economist for the American Trucking Association spoke about current market conditions related to bulk trucking. He said that data shows that chemical production increased by 5.2% in 2021 and is expected to increase another 3.8% this year and 2.6% in 2023.
Mr. Costello also pointed to upticks in production of items like plastics, cement, clay, and lime. He also said that increases in housing construction and new investments related to the Infrastructure Investment and Jobs Act bode well for the industry as there will be more construction-related freight that needs to be transported.
Here at Bulk Connection, we're seeing that manufacturing remains strong and we're busier than ever in supporting the transport of chemicals and other types of liquid and dry bulk freight for our customers.
Securing freight capacity for the rest of 2022
While the above information is welcome news for your transportation partners, it is also a reminder that there are many companies vying for their services. Along with the continuing pinch related to the driver shortage, this means that capacity is still tight. But we're seeing signs that it's becoming less so. Depending on the lane you're shipping in, we've seen wait times to get your products in motion come down slightly.
Still, the best way to secure capacity is to give your transportation partner as much advance notice for your loads as possible, while taking the proper steps toward becoming a shipper of choice.
What we're doing as a bulk freight 3PL
We continue to do all that we can to support our customers and carriers alike – finding capacity for our shippers and going the extra mile to make our loads easy for carriers to handle.
In terms of capacity, we've been able to bring new carriers into our network to provide more coverage for our customers. As always, our vetting process ensures that only quality carriers ever handle a customer's load. And our dedicated compliance team ensures that the carriers in our network maintain that high level of quality, while being up to date on all necessary paperwork (e.g., operating authority, insurance, etc.).
To learn more about working with Bulk Connection and putting our network to work for you in the months ahead, contact us today.