When it comes to shipping hazardous materials, there's no such thing as a "do over." Every load needs to be shipped safely and responsibly, as the results of anything less can be perilous. Ensuring such safety and responsibility for your hazmat loads then begins with hiring the right hazmat trucking companies to do the job. But, do you have the time and resources needed to find the right carriers? If you don't – or are unsure – this article will shed light on an effective alternative to going it alone: partnering with an experienced freight broker.
How a freight broker can help you vet hazmat trucking companies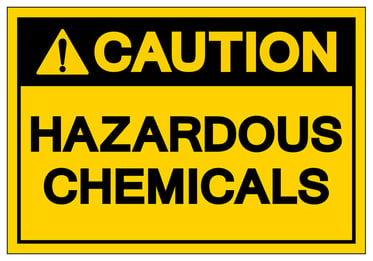 When you're looking for a carrier to haul hazardous materials, there is a lot of information you need to obtain for each one that you consider for the job. Acquiring this information for several different 'candidate' carriers can be a time-consuming process. To illustrate just how time-consuming, let's take a look at what we do here at Bulk Connection as a freight broker specializing in chemical and hazmat freight:
For starters, we have a compliance department whose sole responsibility is the acquisition and management of carrier documentation. Our bulk freight carrier network consists of hundreds of hazmat trucking companies across North America, and the records for each must be kept up to date. For instance, when insurance or a certification expires, the compliance department will work to obtain new information from the carrier before any further loads can be offered.
Similarly, there is a thorough vetting process that commences when a carrier wishes to join our network. The prospective carrier must complete a thorough questionnaire regarding its product capabilities, personnel, training programs, equipment, experience (we won't work with any company that has less than 2 years of hazmat trucking experience), and other information, while also submitting a host of additional documents. These documents include the company's motor carrier number, operating authority, federal I.D. number, hazmat certification, insurance information and TSA certification.
The company must also submit information related to its drivers. This includes CDL-endorsement information, as well as TWIC information. In terms of CDL endorsements, hazmat drivers will typically need both the tanker endorsement (N) and the hazmat endorsement (H). These can be combined into a single "X" CDL endorsement. As for the Transportation Worker Identification Credential (TWIC®), it is required by the Transportation Security Administration (TSA) for drivers who wish to enter ports and government facilities.
This information is kept current in our database, and freight agents can only book loads with carriers that have all required pieces of information 100% up to date. Carriers that have missing or outdated information cannot be selected for a load within our system.
If all this seems a bit daunting, it certainly can be if transportation is not the main focus of your business. By partnering with a freight broker who has gone to the lengths described above, you are ensuring that your loads are only handled by hazmat trucking companies that are fully qualified to handle them. And, best of all, your broker performs all this vetting so that you don't have to.
How else can freight brokers help hazmat shippers?
Of course, the capabilities of hazmat freight brokers extend far beyond vetting carriers and drivers. We're in the business of hauling products after all. Our business relies upon thorough knowledge of these products and the processes and equipment required to move them safely. To illustrate the importance of this knowledge, here's an example of a conversation we have regularly:
Shipper representative: "Hey, can you pick up a load next Saturday?"
Freight broker: "Well, what are you shipping?"
Shipper representative: "We're shipping something called 'ampo-butylene-hydroxy-something-something.'"
Freight broker: "Okay, what equipment do you need to haul it?"
Shipper representative: "I don't know."
Now, of course, this isn't reflective of all shipping companies, but it is a common conversation. When it occurs, the shipping representative may not have all the information but is still tasked with moving a volatile – and often very dangerous – chemical or hazmat. It then becomes our job as a freight broker to obtain the necessary information and plan every aspect of the load.
This process starts with knowledge of the product. Every chemical or hazardous material will have a Safety Data Sheet (SDS) which lists the product's characteristics, incompatible prior products, and other requirements. Experienced freight brokers will likely already have knowledge of the product and understand how to ship it safely, but in any event, the SDS is an effective starting point.
From there, we talk through every aspect of the load, providing education where needed. This process will include the following:
Product requirements including temperature requirements
Details about the loading facility and its equipment
Details about the hazmat placards needed for the tank or trailer
Details about the destination facility and its equipment
Contact information for all key personnel
Timeline and transit information, including tank wash details if applicable
Once all the key shipping details are agreed upon and recorded, we then turn to our network of vetted carriers to find the ideal match for the load.
Turn to freight brokers for hazmat trucking
It is this expertise described above – along with the ability to be an effective matchmaker between shippers and carriers – that make freight brokers such an asset to shippers. While, as a shipper, your job is to know your product, it can be very difficult to also have a handle on all the variables that go into moving it.
For over 30 years, Bulk Connection has helped shippers of chemicals and hazardous materials ship their products safely and reliably throughout North America. Whether your product moves in the form of liquid bulk, dry bulk, or dry van totes, Bulk Connection has likely handled it and handled it often since 1987.
We're also one of the few freight brokers that has ISO-9001 certification, which gives our customers further assurance that every single detail of a shipment will be handled in accordance with strict quality protocols. To learn more about entrusting the transport of your most delicate products to true experts, contact Bulk Connection today.