Imagine that you want to book your dream European vacation but you've never been to Europe before. You could take the time to research and plan every aspect of your trip yourself. Or, you could hire a travel agent to expertly handle your entire trip for you.
If you're new to the world of bulk shipping and tasked with moving bulk freight for your company, your choices may seem similar. Instead of a travel agent, however, your operation can be expertly guided by a freight broker specializing in bulk freight.
Finding a bulk carrier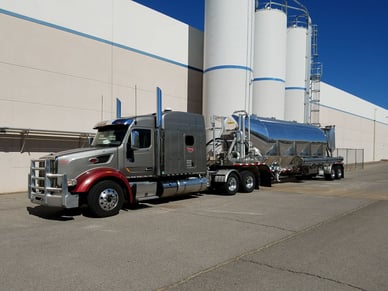 On paper, the process of bulk shipping seems straightforward. You have a product (e.g., plastic pellets, wax, powders, chemicals, or other raw materials) that must be shipped, and you need to find a tank truck carrier to ship it for you. There are many carriers to choose from, but finding and vetting carriers is tougher than it seems.
There are always new carriers entering the market, carriers leaving the market, and carriers merging. If you don't have the time and resources to keep up, you may find it challenging to regularly find the best carrier to haul your product. And, speaking of time and resources, you'll need to spend a lot of those vetting the carriers you end up considering for the job.
Vetting a bulk carrier
At a minimum, you'll need to make sure that your prospective bulk freight carrier has the following information (and that it's up to date):
Operating authority
Motor carrier number
Federal I.D. number
Insurance information
Hazmat information and TSA certification (if applicable)
Driver endorsements (hazmat tank truck drivers, for instance, will need both the tanker and hazmat endorsements)
You'll also need to do research to see if there are any citations or judgments against the carrier and/or its drivers.
Securing the proper bulk shipping equipment
Once you've identified and vetted your carrier, you'll then need to plan the logistics of the job. Unlike dry van shipping, there are many considerations related to bulk transport equipment that will determine (or hinder) your operation's success. Questions you'll need to anticipate from your carrier include:
What are you shipping?
What is the density of the product?
What is the value of your shipment?
Do you have a Safety Data Sheet (SDS) for your product?
Are there incompatible prior products?
From what will you load the product? And into what kind of receptacle will it be unloaded?
How close can the truck get for loading and unloading?
Can you provide the information of key contacts at the loading and unloading sites?
Once you've gone through this process, your carrier will be ready to schedule your shipment. If this all seems like more than you bargained for, it doesn't have to be. You can leave most of the above to a bulk freight broker. Such brokers can also work with you to obtain the necessary information if you are unsure about certain details at the start.
Leaning on a freight broker for bulk shipping
Though they typically own no equipment of their own, freight brokers essentially act as middlemen between your product and the carriers that can haul it. When you work with an experienced freight broker, you effectively eliminate much of the work involved in securing a carrier for your load.
For starters, you won't need to find a carrier yourself. Freight brokers typically have very large networks of carriers and, once the broker understands what you are shipping, it can match the appropriate carrier to your shipment.
You also will not need to vet your carriers. Some freight brokers have dedicated compliance departments who maintain and acquire all necessary documentation. Some brokers, like Bulk Connection, go a step further and keep scores related to carrier performance so that your load is never handled by a carrier that is unqualified or unfit to handle it.
That leaves the information required to plan the load and secure the equipment. You will have to be involved in this step, of course, but once your broker receives this information once, it will be able to match your product with carriers without likely needing it again. Most freight brokers will already have a solid understanding of your product – and the related equipment requirements – so this input session is rarely a lengthy or arduous one.
So, by leaving the 'bulk' of the carrier-sourcing process to an expert freight broker, you're free to do what you do best: driving up service quality and controlling costs in your freight operation.
Consider Bulk Connection
When you're looking for true expertise in the bulk shipping industry, look no further than Bulk Connection. With over 30 years in the industry – and freight agents that average almost 20 years of experience – Bulk Connection knows your products and understands what it takes to ship them effectively. To learn more about the benefits of working with a freight broker, contact Bulk Connection today.