As we approach the end of 2018, the truck driver shortage is continuing to worsen – with few signs of improvement any time soon. Shippers continue to have products to transport, but there simply aren't enough drivers to handle the loads.
According to Fortune, the driver shortfall currently stands at 296,311. Bob Costello, ATA chief economist, adds that "the extreme tightening of the driver market – driven by solid freight demand – will continue to challenge fleets looking for qualified drivers." So, while it's hard to find any drivers right now, it is even more difficult for shippers of chemicals and other liquid products that need tank truck drivers with the CDL endorsements necessary to carry bulk liquids and/or hazmat.
Defining tank truck drivers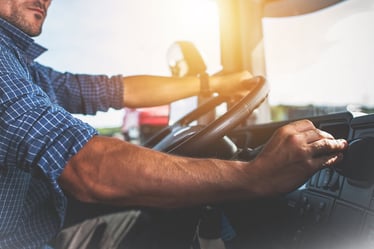 Before we go searching for tank drivers, let's first define who we're looking for. It used to be that a tank truck driver was…well, a truck driver that hauled a tank containing a bulk liquid product. That changed in 2011, however, when the FMSCA required drivers who hauled totes exceeding a certain volume to receive a 'tanker endorsement' on their CDLs.
According to Bulk Transporter, the FMSCA definition is as follows:
"Tank vehicle means any commercial motor vehicle that is designed to transport any liquid or gaseous material within a tank or tanks having an individual rated capacity of more than 119 gallons and an aggregate rated capacity of 1,000 gallons or more that is either permanently or temporarily attached to the vehicle or the chassis."
Download the Free eBook: Liquid Bulk Shipping 101
So, as per the ruling (which went in to effect in July 2015 in all 50 states), dry van drivers hauling four or more 250-gallon totes are now "tank truck drivers" – no different from the men and women pulling a stainless steel liquid tank. Drivers who require this tanker endorsement and also carry hazmat thus need 2 endorsements on their CDLs: the tanker endorsement (N) and the hazmat endorsement (H). To make things a little easier on the drivers, these two endorsements can be coupled as a single "X" endorsement.
Where to find tank truck drivers
So, now that we know who were looking for, how do we find them? That's the million-dollar question at the moment. And, it's hard enough finding an answer when you're shipping a truck full of widgets, let alone shipping 2,000 gallons of a chemical solvent that requires the driver to have two CDL endorsements.
Do you have the time and tools to locate qualified carriers on a regular basis?
Likely not.
That's why many shippers turn to bulk freight brokers for capacity. Instead of searching for a single carrier on your own each time you need to ship, you can lean on a transportation specialist that can match your load to availability from fully-vetted carriers in its network. The broker can identify the one best suited to transport your product.
"Best-suited" is a vital distinction as shipping chemicals and hazmat products is never a 'one-size-fits-all' job. It requires intimate knowledge of the product, the lane, and the equipment involved.
So, while their businesses depend on the size and capabilities of their networks – and the ability to secure truck capacity when needed – freight brokers do much more than play matchmaker. A quality bulk freight broker is truly a freight strategy partner, with the expertise and experience to guide your product every step of the way between planning and delivery.
Lean on Bulk Connection to source tank truck drivers
With one of the largest bulk carrier networks in North America, over 31 years of bulk shipping experience, and a seasoned team of industry professionals, Bulk Connection is one of those brokers you can lean on to find bulk shipping or hazmat capacity -whether liquid or dry bulk. We have the network get your product in motion, as well as the expertise to make sure its quality is preserved every step of the way. Contact us today to get started.