If you're in the business of shipping chemicals, there's more than one way to get your products from point A to point B. While the big stainless-steel bulk tanker trucks certainly remain a cornerstone of the industry, many shippers also turn to dry vans for chemical transport. In this article, we'll look at the dry-van side of chemical trucking and break down what you need to know before booking your first load.
How it works: chemical dry van trucking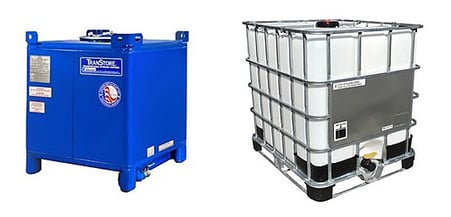 The process of transporting chemical products in a dry van trailer is not all that dissimilar from shipping many other types of products via dry van. The chemicals – whether raw or blended materials – are simply loaded into the appropriate containers, which are then placed into the trailer.
The types of containers commonly used for chemical transport include drums and intermediate bulk containers (IBC). These IBC totes can handle large quantities of liquids or granulate materials, and range in carrying capacity from 180 to 550 gallons. They are available in plastic or stainless steel and can be stacked (see examples in inset image).
One very important note here is that, while tankers and dry vans are typically associated with different driver requirements, drivers hauling chemicals are often treated the same regardless of the trailer type. In 2011, the Federal Motor Carrier Safety Administration (FMSCA) required drivers who haul IBC totes exceeding an individual capacity of over 119 gallons and an aggregate capacity of over 1,000 gallons to receive a 'tanker endorsement' on their CDLs. So, even though they're driving a dry van trailer, these drivers are effectively seen as tank truck drivers by law.

Drivers who meet these requirements and also carry hazmat must have 2 CDL endorsements: the tanker endorsement (N) and the hazmat endorsement (H; these can be combined into a single "X" endorsement).
Advantages of dry van chemical transport
When compared to its bulk tank/trailer counterparts, dry vans can offer the following benefits to chemical shippers.
Increased capacity. Simply put, there are many more

dry van trailers

on the road than bulk tanks and trailers. By incorporating dry vans into your transportation-sourcing mix, you're casting a much wider net than if you limit your sourcing solely to bulk tanks and trailers.
Reduced costs for less-than-full loads. If you don't have enough product to fill a tanker truck or bulk trailer, you may enjoy substantial cost savings by placing your load in a dry van. Similarly, you can utilize a bulk tanker or trailer in tandem with dry van shipping to transport the amount of product that doesn't fit in the bulk portion.
Temperature-controlled is an option. By placing your IBC totes on a reefer trailer, your freight broker and/or carrier can ensure that your product stays within its required temperature range throughout its journey.
Key considerations in dry van chemical transport
Whether bulk or dry van, shipping chemicals is a serious business where the smoothness of your operation is largely determined by the quality of your freight broker and/or carrier and its ability to address the following challenges.
Drivers need the appropriate certifications. In the bulk tank/trailer shipping world, all dedicated bulk tank/trailer drivers will likely have the appropriate license endorsements. This is not the case in the world of dry van shipping where tanker and hazmat endorsements are far less common.
Brokers/carriers need the appropriate insurance coverage. You will need to ask potential freight brokers or carriers for surety bonds, operating authority (carriers), and broker licenses (freight brokers) as well as regulatory compliance if necessary. You will also need to ensure that the carrier has the appropriate insurance coverage to handle your product. Some freight brokers maintain contingency insurance to augment the carrier's coverage, though it is not required by law. Reluctance or inability to provide any of these required items should be a red flag.
Carriers and freight brokers need safety measures in place. Regardless of the mode of transport, chemical spills and leakage are very big deal. You need peace of mind knowing that your carrier has plans in place to prevent such accidents and address them effectively should they occur. A quality freight broker can help in this regard by understanding the characteristics of your products and then ensuring that the carrier is not only capable of handling them but prepared for possible accidents as well.
Temp-controlled carriers need to protect product integrity. When you entrust your temperature-sensitive product to a transportation provider, you need to ensure that the provider has the expertise, equipment and monitoring capabilities to protect the integrity of the product every step of the way.
Stringent time requirements must be proactively addressed. As a chemical shipper, you likely have very tight deadlines and shipping windows. You therefore need your freight broker or carrier to act as a true partner in meeting these time requirements. This entails everything from route planning and contacting personnel at loading and unloading sites to ensuring that trailers are always clean, dry, and odor-free and thus acceptable for loading.
In addressing these challenges and considerations, many shippers simply turn to the experts: the freight brokerage companies who plan and implement every stage of the chemical transport process from the initial phone call to the final paperwork.
Lean on Bulk Connection for Chemical Transport
At Bulk Connection, we are known for our bulk shipping expertise and ability to source capacity. But our carrier network for chemical transportation goes beyond liquid and dry bulk trailers. What many don't know is that our packaged chemical transportation division has been handling raw and blended chemical materials in dry vans since 1991. Over that time, we have built a very large network of dry van carriers (and drivers) with the equipment, experience and authorizations required to haul chemicals.
Looking for a partner to handle your large-volume bulk shipments, as well as your packaged chemicals? Let's talk.