For many bulk shippers, partnering with a 3PL transportation provider can seem like an 'all or nothing' proposition in which the shipper's freight is given either to a carrier(s) OR to a freight brokerage. However, such a strategy doesn't reflect the current complexity of the market. In this article, we'll explain how you can partner with a bulk freight brokerage to complement your existing carrier relationship/s.
Can a shipper use a freight brokerage AND hire carriers directly?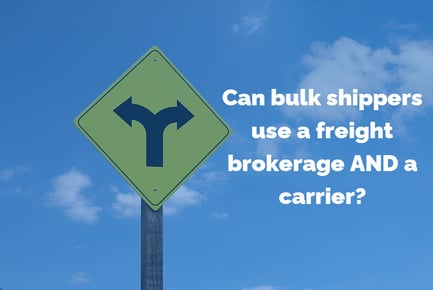 Shippers can and do partner with both carriers and freight brokers. Often, a shipper will have a comfort level with a specific carrier in a specific lane(s). And that's well and good. But what happens when you need to dial up shipments and the carrier capacity isn't there? Or, when you need to move freight in a new lane in which your carrier doesn't operate or doesn't have the capacity you need?
Or, what if you simply feel like you're too reliant on one carrier for your transportation needs?
In these and other situations, you can augment your existing bulk carrier service with that of a freight brokerage. Unlike carriers, freight brokers have no equipment of their own. Brokers instead act as a 'middleman' and use their knowledge of lanes, products, and equipment to pair your freight with capacity from carriers in its network.
More reasons to lean on a bulk freight brokerage
Whether you choose to have a freight broker augment your carrier shipments or handle all your freight, here are additional reasons why working with a brokerage is beneficial to your business.
Cut freight costs. Most freight brokerages have very large networks of carriers. A broker can then leverage the size of its network to find the best carrier for your loads based on experience, equipment and cost. Brokerages can essentially 'comparison shop' on behalf of their shipping customers.
Secure capacity. With the truck driver shortage and COVID-19-related slowdowns, bulk freight capacity can be very hard to come by. When you partner with a freight brokerage, however, one call to your broker can effectively match your loads to all the carriers in its network. The key difference here is that an expert freight broker will only match your loads to carriers with the equipment, experience and driver endorsements that meet your products' specific needs and requirements.
Remove demands of traffic management. When you book a load with a carrier, you typically must allocate internal resources to track that load and manage the timeline and stakeholder expectations. Brokerages can handle those tasks on your behalf.
Receive one-stop pricing. Let's say you have product that can be shipped in a bulk trailer or in totes. With one call to your freight broker, you can receive quotes for each mode of transport to help guide your decision. This saves you the time of hopping from carrier to carrier and going through repeated input processes to receive quotes for each mode.
Use the best equipment for the job. Freight brokers are equipment agnostic. As freight brokers have no equipment of their own, there is no incentive to using its own equipment to handle your load. In the eyes of the freight broker, the best carrier and equipment match for your product gets the load. Period.
Work with chemical product experts. Whether your product is liquid or dry bulk, hazmat or non-hazmat, a freight broker that specializes in chemical bulk transportation has likely shipped it – or a similar product – many times. It can combine that experience with information from your product's Safety Data Sheet (SDS) to find the carrier that has the equipment to haul it safely.
Vet carriers and manage information. If you're going it alone and working with different carriers directly, there can be a lot of work that goes into maintaining the carriers' licensing, insurance and regulatory compliance information. Some brokerages, like Bulk Connection, have a dedicated team whose responsibility it is to keep these records updated and ensure that the broker's TMS system assigns your loads ONLY to carriers that are up-to-date and qualified to handle them.
Source emergency capacity. When you're dealing with a single carrier, it is limited to its own trucks and equipment. If you have an emergency such as a rail interruption and all of that carrier's trucks and drivers are booked, you're out of luck. A 3PL with a large network, however, can pull trucks in from near and far to support your needs.
Enjoy personalized freight brokerage service with Bulk Connection
Bulk Connection is a freight brokerage that has specialized in liquid and dry bulk freight transportation since 1987. And while there is nothing small about our North American network of bulk carriers, we are small in one meaningful way: we're small enough to provide personalized attention to every shipper we work with. This means picking up the phone when you need us and working with you to develop customized solutions that the big carriers simply don't have time for. To learn how to combine the benefits of this personalized approach with our vast carrier network, contact Bulk Connection today.