No matter how well you perform in your line of work, there's always opportunity for improvement. Even a few minor tweaks here and there can pay serious dividends. The problem is, it's not always easy to spot those minor tweaks yourself. For carriers and other bulk trucking companies, freight brokers that specialize in bulk freight transport can act as an extra set of eyes to help you optimize operations.
In this article, we'll put those eyes to good use and share with carriers some of the ways we, as freight brokers, see that that they can operate more efficiently.
3 common inefficiencies among bulk trucking companies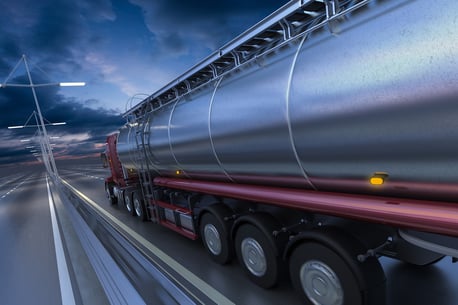 As bulk freight brokers and logistics pros, we work hand in hand with carriers to transport the goods of our shipping customers. And, while we only work with the best carriers in the industry, we still see a few areas in which carriers would benefit from operational tweaks.
Inefficiency #1: Poor documentation/communication results in drivers not getting paid for demurrage
The following is a scenario we see played out repeatedly. A driver arrives at the loading or unloading site on time, only to be delayed. Common reasons for this include: the facility is simply backed up and can't fit another truck in to be unloaded or loaded; lengthy lab tests; or there are production or scheduling issues and the driver needs to wait for the situation to be resolved. Either way, the situation is the same: the driver arrives on time but must wait. Once the driver realizes there is going to be a delay, he should contact his dispatch ASAP and notify them so that they can communicate that information to the responsible party.
In the age of Hours of Service regulations, this waiting costs drivers and carriers in both time and money. A delay for a loading/unloading appointment may cause the driver to miss the tank wash or his next loading appointment, which can send ripples across the everyone's operations. The driver and carrier can and should be compensated for this demurrage, but with a lack of supporting documentation or communication, it often doesn't turn out that way.
Why? Because the driver doesn't obtain the necessary documentation as events are unfolding. Too often, drivers will trust that their GPS-tracked whereabouts will provide sufficient evidence to warrant compensation after the fact. A game of he-said-she-said ensues and the driver and carrier may end up with nothing or a fraction of the compensation they should receive. Also, in many instances, especially for those shippers using transportation management systems (TMS), driver delays must be communicated in a timely manner or the delays will not be approved.
What carriers should do: All carriers should have a driver report form and train their drivers on how to fill it out. Every event during the loading/unloading process should be noted with an explanation as to what is causing the delay. Then they need to have it signed by the person making decisions at the facilities. For example, if the driver arrives at 8:45 for a 9:00 unloading appointment, only to be told at 10:00 that he must come back tomorrow, he should immediately contact his dispatch and communicate what is being requested.
Once confirmed, the driver needs to document all of this information and have it signed by the person telling him to come back. When he arrives the next day, he should document his arrival, unloading time, etc. and have that signed. That way, when all the load documentation is submitted, there is no question as to why the driver was delayed and who authorized the decision. This goes a long way toward reimbursement for demurrage.
Inefficiency #2: Dispatchers, trackers and drivers aren't on the same page
When a truck is on its way to a destination, there are a host of stakeholders throughout the supply chain that want to be updated as to its whereabouts and timing. Some of these stakeholders, like freight brokers or the shippers themselves, will contact the dispatch and/or tracking arms of the carrier for status updates. Too often, we find that the responses we get from these departments is different from the actual status of the driver.
What typically goes wrong is that these departments have an over-reliance on GPS. The tracking of driver movements via GPS can, of course, show where a driver is at any point in time – but that's only part of the story. Are the driver's hours of service almost up? Is there bad weather in the area that may cause delays? These are just a few of the things that make GPS inadequate as the single source of information.
What carriers should do: Instead of relying solely on GPS, dispatchers and/or trackers should implement a check call system. This way, they will get the complete status update and will be able to address concerns that GPS does not account for. These status updates will give all stakeholders a clearer sense of the driver's schedule and arrival time.
Inefficiency #3: Being proactive in getting reloads and having the necessary equipment to accept reloads
Whether the load is a last-minute booking or the result of a planning shortcoming, bulk trucking companies will often find themselves returning from a loading site empty. Aside from being inefficient in terms of time and money, it's usually an unnecessary occurrence that can be prevented.
What carriers should do: Carriers would be well served to contact their freight brokers and give them a heads up on where they are going to be and where they want to go. Trucking companies should also equip their units so they are versatile and adaptable to multiple contingencies. In one call to a freight broker, carriers can align their drivers and schedules with shipping needs in the area. After all, many freight brokers have a large roster of shippers – with visibility into their supply chains and movements of goods.
Turn to a 3PL for a true supply chain partnership
From sourcing loads to ensuring carriers are appropriately compensated and handling stakeholder communications, 3PLs can be an invaluable ally to bulk trucking companies. With over 30 years of bulk transportation experience, Bulk Connection prides itself on being a trusted resource for carriers across North America. So, if you have dry bulk, liquid bulk or dry bulk capacity, contact Bulk Connection to see how we can put it to work for you.