In our new feature, we will periodically profile the men and women who make Bulk Connection a trusted freight partner. In this article, Scott Wilson, Truckload Division Manager, talks about Bulk Connection's dry van shipping operation and how it adds value for customers.
Tell us about the dry van/truckload department.
The Dry Van/Truckload Division handles all freight shipments that don't travel in bulk tanks or dry bulk trailers. Our employees average about 13 years of freight shipping experience.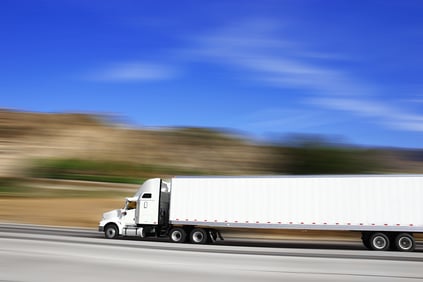 I am in my 30th year with Bulk Connection and helped launch this division in 1991. In the first four years of Bulk Connection's existence, we handled liquid and dry bulk shipments only. Some of these loyal bulk freight customers began asking if we could also handle their shipments of palletized products and products contained in super sacks and drums. Our answer was "yes" and we're still going strong after nearly 30 years.
What services does the dry van/truckload division provide?
We match shippers' loads with our large network of carriers for truckload, LTL and flatbed moves, as well as container drayage. We handle every detail and guide our shipping customers through the entire process.
What products does the division handle?
Just about everything. As I have already mentioned, we started with chemicals and we still do ship a lot of packaged chemical products. But we've diversified over the years and now handle textiles, raw goods, machinery – just about any product that requires dry van shipping is a candidate for our services.
How do SHIPPERS benefit from your services?
For starters, when a shipper works with us, we have the knowledge and experience to walk them through the entire shipping process and educate them along the way. Some shippers or, more specifically, employees tasked with the shipping function, can feel uncertain when booking large freight movements. We help take the uncertainty out of it.
We work with shippers whose products ordinarily might be shipped in bulk tankers, but if capacity for tanker equipment is limited, we can offer shipping the same material in totes, drums; etc. Shippers might come to our bulk division to ship bulk to their facilities, and then they will utilize our dry freight division to ship that same material to their customers.
There are also companies that can ship product in either in bulk or dry van. We help these customers with side by side rate comparisons between both modes. If a dry van move is going to be a savings over bulk, they might go with the dry van route – or vice versa.
How do CARRIERS benefit from your services?
When carriers work with Bulk Connection, they know that they are dealing with a company that understands transportation and the trucking industry, knows the chemical and understands product and equipment requirements. We make life easier for them by providing all the necessary details they require, so there are no surprises when their project is in motion. Furthermore, we honor our responsibilities to carrier agreements.
What are some of the current opportunities for shippers in the marketplace?
Pricing favors shippers at the moment – if they know how to capitalize on the opportunity. They can compare rates for bulk vs dry van as we discussed, but they can also compare truckload vs LTL pricing. In 2020, we are still finding that some shippers are paying more for LTL than it would cost to move the same size shipment based on truckload pricing. We can show shippers where these break points are, and how some shipments can be transported in several different ways – each with different pricing and service levels.
Of course, sometimes it's not just about pricing, it might be more about getting product moving as quickly as possible and getting the job done right. That is a big part of who we are, as well.
What are some of the current opportunities for carriers in the marketplace?
Loads are tougher to find these days, but they're out there. So, if you have capacity in a particular lane, there is a shipper and/or freight broker with loads ready to move. That's where a freight specialist like Bulk Connection can help. And, unlike load posting services where nearly anyone can post a load, working with a true logistics expert really makes life much easier for carriers.
I always get excited when I get an email from a carrier with a list of their available equipment. Every one of these will get read and carefully considered. We will use the information that they provide and try to match those trucks and that equipment to our shippers' needs. We're in the business of servicing carriers, as well as shippers.
Any final thoughts?
It's terrific that our dry van/truckload shipping division – which started really as a secondary service nearly 30 years ago – has been able to flourish in its own right with a diverse base of customers and product types that are shipped.