In the world of bulk liquid shipping, there can sometimes be a gap between what a shipper needs and what a carrier ultimately delivers. As the transportation experts in the middle, freight brokers and other third-party logistics (3PL) transportation providers can play the role of matchmaker between the two – working out key details with both shippers & receivers so that their needs are fully and accurately communicated.
A good deal of this information centers upon matching chemical product requirements with transportation equipment. In this article, we'll examine the ways that 3PL providers match these requirements to bulk tanker trailers and other key pieces of equipment.
It starts with the SDS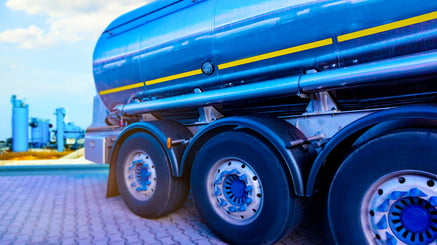 When we, as bulk transportation providers, work with a shipper to move a product, the first thing we'll ask for is the product's Safety Data Sheet (SDS). Every chemical product is required to have an SDS that will list, in detail, its chemical properties as well as storage and transportation requirements. Based on this information – as well as input from the shipper – we're able to make the following determinations:
The type of bulk tanker trailer to be used. Many chemical products will ship in stainless steel tanks. There are many different types of "stainless steel," however. 307-alloy stainless steel – known for its versatility – was once an industry standard and is still used to ship certain classes of chemicals. In recent years, however, alloys such as 316 and 317 have become more popular due to their higher levels of nickel and their enhanced ability to handle certain corrosive materials.
Some temperature-sensitive products (e.g., petroleum wax) may also require stainless steel tankers with in-transit heat. These tankers contain steam coil lines along the interior sides of the tank. Power from the truck heats and circulates coolant from the radiator through these lines in a continuous cycle in order to help maintain the temperature of the product during transit.
In addition to stainless steel, there are other chemical bulk tank options. These include rubber-lined tanks, polyethylene tanks and plastic tanks. The bottom line is that the product's chemical characteristics will determine the type of tank that should be used for optimal transportation.
The type of tank wash needed. All chemical producers, shippers and receivers of product require a tank to be thoroughly cleaned before loading. Drivers will need to furnish a cleaning slip upon arrival to load, to confirm that the wash was completed. Some manufacturers may require that the wash occur only at specific facilities authorized by the manufacturer as well. One of our jobs as logistics personnel is to understand and relay the specific wash requirements to the parties involved, and to locate the necessary wash facility(s) – if required – at the outset of the project.
The types of incompatible prior products. Just like a chemical product's characteristics determine the type of tank to be used, they may also determine which other products must not have been in the tanker beforehand. The volatility of chemicals means that certain products will not 'play nice' with one another, and that even the faintest trace of one product in a tanker may negatively affect another. 3PL providers who specialize in bulk freight understand these incompatibilities and will source bulk tanker trailers accordingly.
But that's not all
With the basic product requirements paired with tanker needs, there is still additional equipment that must be considered. Specifically, the equipment used to load and unload liquid product onto or off of the tanker. Shippers will need to know and communicate the following as the load details are planned:
Do the loading/unloading facilities require the tanker to have an air compressor or pump? If a pump is required, does the facility have its own or will the driver need to supply it?
Do the loading/unloading facilities have hoses on site? If not, what length of hose is required at each facility?
What size adapters or couplers are needed to make the hose connections? And, again, are these available onsite or does the driver need to supply them? For example, most setups will require a 3x2" reducer with a bleed valve to purge material from the lines.
Is a 'nitrogen blanket' going to be applied? A nitrogen blanket is a layer of nitrogen gas that is added to a loaded liquid tanker in order to reduce the product's exposure to oxygen, minimizing moisture. If such a blanket is used, the unloading facility should have its own pressure line (and associated fitting) in order to push the product from the top, down through the bottom of the external valve connection on the tanker to unload material.
It's not that we don't trust you, but…
Once all these details are ironed out, your 3PL transportation provider still isn't finished doing its due diligence. We will contact the loading and unloading sites to re-confirm all load details and make sure that they meet the expectations of all parties. This helps prevent unwelcome surprises for all involved.
For example, let's say that the party booking the load states the tanker will unload from the center at the unloading site. Upon arrival, the driver is told that he or she will need to unload from the rear. Such a surprise can end up throwing a wrench into the process if the necessary equipment requirements aren't properly communicated.
By confirming – and then reconfirming – all load details before the driver sets out, there is no room left for such surprises.
Rely on a specialty transportation provider for liquid chemical transport
From sourcing the right bulk tanker trailer for your product to covering all loading and unloading details, bulk transportation 3PLs can be your go-to expert for chemical shipping. But you'll want one with experience moving bulk freight. With over 30 years of experience hauling bulk chemical products across the U.S., Bulk Connection is one such expert. Our experienced freight agents are ready to take your order details and match them with our nationwide network of carriers. To learn more about the benefits of working with a chemical freight shipping expert, contact Bulk Connection today.