Supply chain disruptions were headline news in 2021, and the world of bulk freight had its share. But the biggest challenge for bulk shippers in 2021 was also the biggest challenge in 2020, 2019, and 2018. We're talking, of course, about the bulk truck driver shortage. In this article, we'll examine strides carriers are making in attracting new bulk truck drivers and discuss how carrier diversification can help shippers improve their odds of securing capacity.
Why is the truck driver shortage more severe in the bulk industry?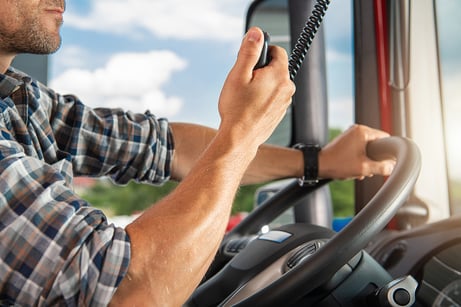 There are a few reasons why driver shortage is felt more acutely in the bulk world. First and foremost, there are fewer drivers in this specialized industry.
Also, bulk truck drivers tend to be older, and many have used the tumult of the past two years as a reason to retire or switch to another type of trucking service.
It's also much longer process to become a bulk truck driver. Drivers don't simply go to truck driving school and then get behind the wheel of a liquid tanker or dry bulk truck. Drivers almost always start with dry van transport. If the driver does well for a few years and has a clean record, he or she may find a bulk carrier willing to provide training for a tanker or dry bulk position. However, due to the higher risks and costs involved (e.g., insurance premiums), most carriers won't take a chance on a new driver until he or she has at least 4 years of flawless dry van driving. And, even then, you're looking at 3-6 months of training until the driver is on his or her own.
Bulk carriers are making strides
Bulk carriers are doing their best to attract drivers and mitigate the impact of the shortage on their operations, and yours. Among their tactics:
Finding qualified drivers currently unemployed
Hiring qualified drivers away from competitors
Training experienced dry van drivers with clean records for bulk transportation
And much like shippers must become "shippers of choice" to make their loads attractive to carriers, carriers must make their companies as "driver-friendly" as possible to attract prospective bulk truck drivers. And they're making progress. A recent Bulk Transporter article reviewed the various strategies bulk carriers are deploying to attract more drivers, including higher pay and shorter runs.
But it's not enough to solve the driver shortage problem and provide relief for bulk shippers like you who are struggling to get your loads covered.
Diversify your carrier pool with a 3PL freight broker
As a shipper, you know that your go-to carrier(s) isn't always able to help you. You also know that your second, third, fourth, etc. options aren't always able to provide capacity either.
In order to move your loads, you likely find yourself casting a wider net that includes more carriers. This is, of course, a time-consuming process that involves fully vetting each carrier and ensuring that they have the right capabilities for your specific products.
You could continue the process of adding and vetting more carriers, and then calling them one by one when you need capacity until one of them says "yes." Or, you could lean on the services of a 3PL freight broker that specializes in bulk freight.
When you partner with such a broker, you're effectively tapping into its network of already-vetted carriers. At Bulk Connection, for instance, our network consists of hundreds of liquid and dry bulk carriers across North America. With one call to us, you're allowing us to match your loads with these carriers until we find the best carrier for your product and shipping lane. We then take care of all the load details and get your product on the move.
A strategic relationship with a bulk freight broker not only saves you time, it greatly improves your chances of securing capacity as your carrier options are as large as your freight broker's network.
To learn more about the benefits of working with a bulk freight broker, contact Bulk Connection today.