Shippers ship, carriers haul and that's what makes our economy go 'round, right? Well, yes…and no. This formula is forgetting a special someone smack dab between the two: me.
I work for a bulk shipping 3PL, and we proudly make up the middle ground where shipper needs meet carrier capabilities. As freight brokers, we provide a lot of crucial input to the process – not just in the logistics of getting a load from point A to point B, but in freight strategy as well.
5 ways that brokers guide freight strategy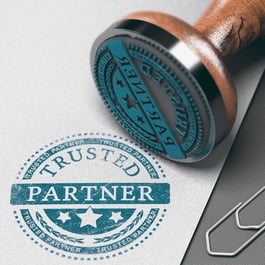 For shippers and carriers, freight brokers – the expert ones at least – do much more than play matchmaker. We handle logistics and, yes, we match the right carrier and equipment to a shipper's load. But, we also dot every "i" and cross every "t" within the transportation process. This especially valuable in liquid and dry bulk shipping where there are many variables that all must be addressed in order to ensure safe and successful transport.
The following are just a few ways in which freight brokerage companies align with shippers and carriers to act as true strategic partners:
1. Brokers provide guidance in shipping the product. Sometimes, a shipper will have expert knowledge of their product and fully understand how it must be shipped. Other times, however, this is not the case. Bulk freight brokers who have experience with the product are then invaluable assets in helping the shipper make sure the load is shipped correctly and safely.

At Bulk Connection, for example, shippers turn to us to ensure proper handling and transport of hazmat, food ingredients, herbicides, plastic pellets…if it can be shipped in a tank truck, chances are we've shipped it. In many cases, we not only know the safety and compliance requirements but also specific product characteristics and the equipment that needs to be used. Our internal quality team reviews all this information and comes back with a soup-to-nuts recommendation on the optimal way to transport the load.

2. Brokers provide capacity. Once the transportation strategy is ironed out, it is then time to find capacity. When a shipper looks to a carrier for capacity, it's doing just that – going to a (singular) carrier. Upon partnering with a freight broker, however, the shipper is using one point of contact to source capacity at scores of carriers simultaneously. Some brokers, like Bulk Connection, have networks consisting hundreds of bulk freight carriers. These carriers have been fully vetted, and insurance and other key documentation is available on-demand.

3. Brokers provide guidance in delivering the product. With capacity sourced, the broker will guide the shipper through the remainder of the process until final delivery. This includes the coordination – and confirmation – of all details (e.g., delivery time, location, rear unload vs center unload required) across the shipper, carrier, and consignee.
4. Brokers provide emergency support. A good freight broker values its relationships and can become a true partner to its shipping customers. In the bulk world, this can sometimes mean helping shippers through emergency freight situations such as rail interruptions. Many freight brokers will take an all-hands-on-deck approach to these situations and devote as many resources as necessary to help a shipper out of a bind.
5. Brokers provide support for carriers. This type of partnership extends to bulk freight carriers as well. We connect carriers with shipping customers and help them secure loads. This is especially beneficial for providers that have reliable capacity but don't yet have a name in the marketplace. For example, I just spoke with a carrier that started with three trucks. Thanks, in part, to the loads that Bulk Connection has given his company in recent years, he has been able to grow his business. His fleet now has 20 trucks and drivers. We also support carriers of all sizes by filling backhauls and minimizing empty miles.
Turn to Bulk Connection for a freight strategy partnership
In my role at Bulk Connection, I get the best of both worlds by providing strategic solutions to both shippers and carriers. Over the past 30+ years, we've built one of the largest bulk carrier networks in the nation, while developing partnerships with shippers in a wide range of industries. To learn more about the ways in which freight brokers can become true strategic partners, contact Bulk Connection today.