Have you retired from a sales or operations job in trucking and freight management, or do you plan to retire soon? Becoming a freight sales agent is an excellent way to stay connected to the industry while earning extra income.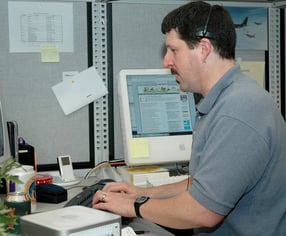 As you know, in transportation management, relationships are gold. Maybe you've developed a thick book of shippers who have relied on you for years to find the freight capacity they need. Or maybe you and a few longtime customers get together now and then for golf, or at a meeting of the local traffic club. Either way, as an agent, you can turn those connections into money while working as few or as many hours as you like.
Here's how the life of an independent freight sales agent works:
Connect your customers with our brokerage business. We do the rest. When a customer needs a truck, they call Bulk Connection. We collect the details, book the load, monitor the shipment and handle any hiccups. You can stay involved in the day-today or leave it all to us. Each time your customer gives us business, you get a commission.
Maintain the relationships. That could mean visiting each of your customers once a month or a few times a year. It could mean simply picking up the phone to check in with them now and then. You decide what works best.
Work when you want. Want to put in just a few hours a month, while devoting most of your time to family and personal projects? Want to work full time, develop new customers and significantly boost your retirement income? It's your choice. As a freight sales agent, you run your business to suit yourself.
Go where you want. Say you like to spend summers in Maine, or you're planning a ski trip to Colorado. All you need to keep your business going is a phone. Even when you're not working at all—say, you're relaxing on a cruise ship, or you're laid up in the hospital—as long as your customers keep calling us, we keep paying your commission.
That's how life works for Charles Kilzer, an independent sales agent who has represented Bulk Connection since 2004. Kilzer says he has earned significantly more working as a sales agent than he likely would have through traditional employment. But he's certainly not tied to a desk.
"Since I started working with Bulk Connection, I have been able to live my life," Kilzer says. "I work a lot of hours but I'm my own boss. I decide when to work and when to play."
As a freight agent for Bulk Connection, you get an especially good deal. You don't fill out forms or provide call records. And your relationship with Bulk Connection does not have to be exclusive; you can serve as an agent for other companies, too. We pay you a weekly commission, and we pay right away: there's no waiting for your customer to cut us a check.
And Bulk Connection treats your customers right. "The Bulk Connection team of experienced freight pros does a fabulous job taking care of the accounts," Kilzer says. "I get praise from my customers, not complaints."
If you don't make use of strong business relationships you've built over the years, you're leaving money on the table. Whether you can bring us 100 customers or just one, we'll be glad to discuss how you might enhance the next phase of your career by becoming a freight sales agent. Complete the form on this page and we'll be in touch.