In our ongoing feature, we will periodically profile the men and women who make Bulk Connection a trusted freight partner. In this article, Valerie Thaxton from Bulk Connection's Billing team talks about the ways that the company's Billing and Accounting team members support both bulk shippers and carriers.
How long have you been with Bulk Connection?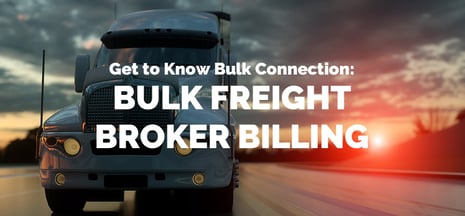 I've been with Bulk Connection since 1990 – over 30 years. When I first started, I handled most billing, accounts payable and accounts receivable. As the company has grown, those tasks have become more segmented, and we have additional team members to handle them.
Can you describe the role of Billing at BC?
Sure. The Billing 'department' really consists of billing, accounts payable, and accounts receivable functions.
When a load is booked, it starts out in dispatch. After it is picked up and delivered, we receive all the related paperwork. We then receive the carrier bill and match that bill to the original load. Sometimes this carrier bill will include detention charges and other costs that the customer was not anticipating. So, we'll review those charges with the shipper (or consignee depending on circumstances) before we send the bill.
We'll then send all load details over to Accounts Payable so that they can pay the carrier.
How does the Billing department support shippers/consignees?
We're their go-to that can handle just about anything they need with a quick phone call or even an email. I've worked with many of our shippers for years and have a good relationship with them. Our customers know that they can always get a hold of me, and we can answer questions and solve issues easily. Many shippers love this about Bulk Connection and say that working with us is a much easier process than working with a carrier directly.
Do you customize invoices?
Yes, we can. The accounting teams at shipping and consignee companies all need basic things like a copy of the Bill of Lading, weigh tickets, etc. But we're happy to work with them to set up invoices exactly as they need them. So, if that includes specific codes or numbers, or if certain people need to be copied in communications, we do that for them.
In short, we pride ourselves on making life easy for our customers.
And for carriers?
For carriers, the key word is 'timeliness.' They, of course, want to be paid in full and they want to be paid quickly. So, it's our job to make that happen and I believe – and our carriers tell me – that we deliver.
Also, many of our carriers work with us on loads for several shippers. All the carrier needs to do is send the bills to us and we handle it with our shippers. It's a much more efficient process for them – and they get paid much faster – than if they had to chase down payment for each shipper individually. They just deal with us; we handle it all.
What do you like most about working for Bulk Connection?
There's a lot that I like about my job. After all, I've been doing it for over 30 years. My favorite parts are the relationships I've built over that time. I don't just have working relationships with shippers, consignees, and carriers, I have actual friendships with people at those companies. Many of those friendships span many years. So, in addition to my friends in the office, I get to work with my customer friends every day, which is very nice.
The other thing I enjoy is that there is an element of investigative work involved. I need to make sure that all documentation is accounted for with things like detention and extra charges, and that everything matches up between the load details and the carriers' bills. I like that aspect of my job as well.
What's the one thing that you'd like people to understand about a bulk freight broker like Bulk Connection?
I'd say that people, whether shippers or carriers, should understand that we go to great lengths to make life easy for them. For shippers, we do everything possible to get their loads booked and to then make the paperwork and billing easy and transparent. For carriers, we try to keep them loaded, to give them backhauls, and to get them paid quickly and in full.
We have a whole building of people – plus freight agents across the country – at work to make these things happen. We support all of these efforts with a level of customer service that I believe is unparalleled in the industry. You can always reach an actual person at Bulk Connection, and you'll never wait long for a reply. We truly love what we do, and I think it shows to our customers.