In the Bulk Connection blog, we routinely interview individuals that help keep the bulk shipping industry in motion. In this latest article, we interview liquid bulk carrier and Bulk Connection carrier partner, Jim Jones, General Manager of Jeff Foster Trucking, about a variety of bulk transport topics, including the role that the Bulk Connection Tank Wash Finder plays in his daily operations.
Tell me a bit about yourself
I've been in the tanker industry for most of my career. I started driving in the early 1990s and worked here at Jeff Foster Trucking (JFT) as a flatbed driver. I moved on to other companies, was a member of the safety department at one, and then running the chemical group for another. I was in the process of forming my own company when Mr. Foster caught wind of it.
We came to an agreement for me to run the bulk chemical operations at JFT. And now, as General Manager, I oversee all of our company operations.
Does Jeff Foster Trucking perform liquid bulk transport nationally?
Yes. We're headquartered in Superior, Wisconsin and have other terminals as well. We haul chemicals all over the US.
What types of products does JFT regularly haul?
We cater to the paper industry quite a bit as we have a lot of paper mills here in Wisconsin. We also cater to the water treatment industry.
We specialize in meeting stringent customer requirements. For example, for a Minnesota paper mill's loads, we need a center unloader, the product has to be above 110 degrees Fahrenheit, and we have to deliver within a 15-hour window.
We bring the product to our terminal 5–7 days in advance. When we get two days out, we put it on steam, and then we micromanage the delivery window to get it there on time. They never worry about deliveries now, whereas it was a constant struggle before we came along. The mill would have to be shut down regularly because the materials weren't there in time.
How does the Tank Wash Finder assist your operations as your drivers travel throughout the country?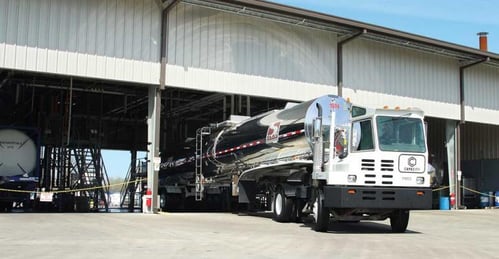 Well, it's our dispatch team's bible. It's how we plan all of our washes.
There are many things about it that we find valuable. Being a smaller company, we gravitate toward working with smaller companies. The Tank Wash Finder not only has the big wash racks that everyone knows, but also the smaller, family-run businesses that provide an excellent wash.
Importantly, the Finder tells us what a wash facility can't handle in addition to what it can. Other directories make it seem like every location can handle everything. That's obviously not the case.
For example, the Tank Wash Finder will say specifically, "no polymers." Well, that's huge. We haul a lot of polymers, and that sort of information is vital to us. We never want to risk having a driver go (sometimes) hundreds of miles off route only to find out a wash didn't cover what we needed it to.
And, obviously, counting on the accuracy of the listings is very important. We can count on the Bulk Connection Tank Wash Finder.
Is navigating tank washes more of a challenge for bulk carriers than it was the past?
For sure. Six or seven years ago, our drivers were calling in and throwing fits if they had to wait two or three hours before getting washed. Now, it's not uncommon to have to wait a day or even more. That's a lot of money to pay a driver to just sit and wait.
The lines and the backups at many facilities have been terrible. It's the single biggest complaint from our drivers. It's also a nightmare for our dispatch team because you want to feed the driver steady miles, but you also want to give customers realistic schedules.
How do you balance the two?
To try and keep everybody happy in the face of these long waits, we find ourselves dropping and hooking more than we want to.
We'll stage a trailer at a frequently used wash. A driver can pull in there, check the trailer in, drop it, grab the clean one, and be on his or her way. The obvious downside to this is vandalism and theft. Tankers cost around $90,000 now, so you have that amount of money just sitting unprotected. The tank wash isn't charging rent, so it's hard to say that they're accountable for damage or theft, like people stealing equipment off of the tanker.
Since we're on the topic of challenges, how are your faring with the driver shortage?
It's pretty bad. It's rare for us to hire an experienced bulk driver. We're typically training into the industry.
It's not like the van industry where you're six weeks away from any person becoming a driver. The process for us usually works like this: the person goes from school to a driver trainer; once they have proven themselves in a van, they have the opportunity to go to flatbed; after a little bit more time, they have the opportunity to go to bulk.
Bulk has much more extensive training, which is also expensive. Even a driver with 20 years of van experience that wants to come over to bulk, we're looking at a minimum two weeks in with a trainer. That adds up.
We're lucky in that we have dry van and flatbed divisions. So, we're able to see who our superstars are and put them on the path from the minors to the bulk hauling major league, so to speak.
---
Bulk Connection has one of the largest networks of expert bulk freight carriers in North America. To learn more about how we can support your bulk shipping needs, contact us today.