When you partner with a transportation provider for chemical shipping services, your goals are to ensure that your products are shipped safely, reliably and at a reasonable price. What you may not realize is that safety, reliability and pricing hinges on the information you provide at the outset.
In this article, we'll examine the importance of sharing key product information with your broker or carrier, and include some real-world examples based on our experience as bulk freight brokers.
Required information for chemical shipping
While there is a variety of information needed to effectively handle – and quote – your chemical loads, here are the basics.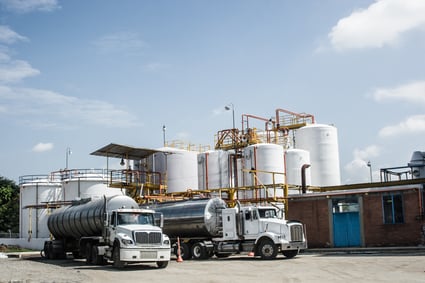 Product information. The first thing we need to know is what you're shipping. Is the product dry or liquid? What are its safe temperature ranges? Is it hazmat or non-hazmat? If it's hazmat shipping, there are additional concerns involved such as acquiring placards and hiring a driver with the appropriate endorsements.
Safety Data Sheet (SDS). Every chemical product should have a Safety Data Sheet that details the product's chemical characteristics and information related to its safe handling and transport. Key information for transportation providers includes:
Density: The weight per gallon will help us determine the number of trucks required to handle a shipment
pH: The product's pH level will tell us what types of tanks or trailers it can be safely transported in (e.g., low pH items will require rubber-lined tanks which are harder to come by than stainless steel and aluminum)
Viscosity: The product's viscosity will tell us whether the product can be pumped or if an air compressor can be used
Equipment information. We need to know what special equipment requirements the product has, if any, as well as details on loading and unloading (e.g., rear or center unload required; hose length needed, if applicable). This also pertains to 'incompatible prior products' – a list of products that cannot have previously shipped in the tank or trailer used for your product.
Scale information. In order to get an accurate record of the amount of product being shipped, the truck will be weighed before and after your product is loaded. The difference equals the weight of your product. Your bulk freight broker or bulk freight carrier will need to know if you have a scale onsite or if a visit to one must be factored into the driver's route.
Chemical shipping case study
Here's a real-world example to illustrate the importance of product information (and the importance of freight broker knowledge) in chemical transportation.
A shipper called us with a request to ship 15 loads of a liquid chemical between two states in the Midwest. He wanted to know our rates and provided us with an SDS sheet for his product. To him, it was very straightforward: give me a rate and let's get my goods on their way. However, our review of the SDS, along with our follow-up questions, painted a different picture.
Based on the information in the SDS, combined with our prior knowledge of the chemical, we knew that the product was temperature sensitive. It could not fall below 63° F or it would turn into a waxy substance. The shipper was unaware of this. We also saw that the region in which the products were traveling was experiencing a cold snap, so we worked with the shipper to ensure the product would be loaded at 72°. We also matched the load with an insulated stainless tank that would keep the product warm during its 1-day trip and allow for steaming, if necessary (it wasn't).
With that out of the way, the remaining details were ironed out and we started transporting the shipper's product – until his supplier ran out of product after 5 loads. For the remaining 10 loads, he would have to source the product from a different supplier. That supplier's product was already in transit via rail, but allowing the product to continue its full 10-14 day rail journey would negatively impact the shipper's timeline. We arranged for the product to be offloaded at a rail facility in Denver. We chose this particular facility as we knew that it had steaming capabilities to heat the product (after it cooled during rail transport) before it was loaded into a tanker truck.
As for the loading, we also knew that the rail-to-truck loading would require a special 4:3 hose connector. As such connectors are often hard to come by, we worked with the shipper to arrange for one to be shipped to Denver in time for the rail-to-truck transfer.
Ultimately, the full project was completed successfully. But, if we didn't obtain and understand the SDS at the outset, this story may not have had a happy ending.
Have your information ready
As this case study shows, the information you provide to your transportation partner is not busywork or 'nice to have' information. It is vital information that directly determines the success of your loads. If you don't have this information – or need some guidance in obtaining it – your transportation provider should be able to assist you.
With over 30 years of bulk shipping experience, chances are that Bulk Connection has direct experience shipping your chemical products, no matter what they are. This understanding allows us to guide your shipment from the initial input call to the final delivery, while leaving no stone unturned in the process. To learn more about shipping your chemical products with a true expert, contact us today.