Do you ever wish a 3PL provider could 'share a brain' with logistics pros at your company and think and act as though it was part of your internal team? When it comes to transportation logistics, that's exactly what is possible through managed transportation services. In this article, we'll share a Bulk Connection case study showing how this arrangement works and dive into key advantages of managed transportation.
Managed transportation in action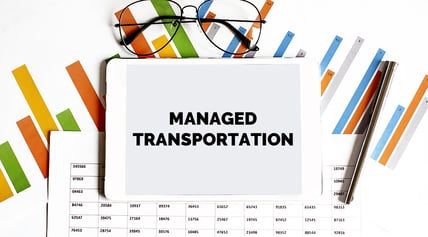 When Bulk Connection formed in 1987, managed transportation was not yet a service that the company offered. That changed with a simple phone call years later when Bulk Connection president and founder, Jim Cordock, received a call from a shipper who was inquiring about liquid bulk transportation services.
The shipper on the phone was with a mid-Atlantic company that manufactured chemical products and distributed them nationally. It moved product by liquid bulk tankers over the road as well as rail shipments and dry van shipments in totes and drums that were hauled by their small private fleet and by common carriers. The company had only one traffic manager at the time who was becoming overwhelmed with sourcing loads for all the company's products across different transportation modes, with different carriers, in different configurations (i.e., liquid bulk and in totes), and in different lanes.
An idea struck Mr. Cordock: Bulk Connection could manage one piece of the company's transportation puzzle – liquid bulk shipping – and free up the shipper's traffic manager to handle all other modes and responsibilities. The company agreed. From that point on, Bulk Connection acted like a true extension of the shipper.
Bulk Connection's responsibilities included sourcing and booking all liquid bulk loads, vetting carriers and ensuring that all information was current, and following up with key personnel at loading and unloading sites to ensure they were prepared to the receive drivers. The shipper now had the benefits and expertise of an ISO-9001-certified bulk freight specialist as part of its team.
As an added bonus, Bulk Connection placed one of its own employees at the company's headquarters. Bulk Connection paid the employee's salary and benefits, while the shipper simply provided a desk along with phone and internet service. This employee became a part of the shipper's team and culture – even playing on its softball team. This offered a unique advantage to all involved as the employee grew to understand the shipper's business from the inside out, enabling him to understand company requirements when booking loads and to identify and resolve problems as soon as they arose.
Ultimately, the partnership proved to be successful, with the managed transportation arrangement lasting almost 9 years until a merger on the shipper's side brought it to an end. During those 9 years, Bulk Connection was able to reduce the shipper's liquid bulk transportation costs by an estimated 12-14%.
Advantages of managed transportation services
As the above case study shows, you can enjoy a deeper relationship with a bulk freight expert like Bulk Connection beyond booking the occasional load. Advantages of such a managed transportation arrangement with a 3PL freight broker include the following.
You don't have to hire full-time traffic employees. When you outsource operations to a 3PL freight broker, you are saving money on salary, benefits, and training costs of new employees – and avoiding the risk of overpaying staff when volumes are low.
3PL freight brokers have experience shipping your product. For instance, at Bulk Connection, we have over 30 years of experience moving liquid bulk and dry bulk freight. So, when it comes to chemicals and other types of bulk freight, if you produce it, chances are we've shipped it and know exactly how to move it safely and efficiently.
3PL freight brokers have industry knowledge. As freight brokers, transportation is our industry. It is incumbent on us to stay up to date on industry trends, technology and opportunities that can optimize your operations. If transportation is not your company's specialty, you can benefit from entrusting it to a logistics expert.
3PL freight brokers can augment your existing operations. If you have an in-house transportation team and don't want to hire additional staff members, you can lean on a 3PL freight broker to handle overflow work over short-, medium-, or long-term arrangements.
Lean on Bulk Connection for managed transportation services
When planning your transportation operations, you don't need to go it alone. An expert freight broker like Bulk Connection can complement your company's staff and address its needs by handling everything from occasional loads to the managed transportation services described above. To learn more about the benefits of working with an ISO-9001-certifed bulk freight expert, contact Bulk Connection today.