No matter what you're shipping, securing consistent bulk freight transportation services is a challenge your company is likely facing at the moment. The effects of the COVID pandemic continue to impact freight capacity. In this article, we'll take a closer look at the current situation and tell you what you can do to improve your odds of getting your bulk shipments in motion.
The current state of freight transportation services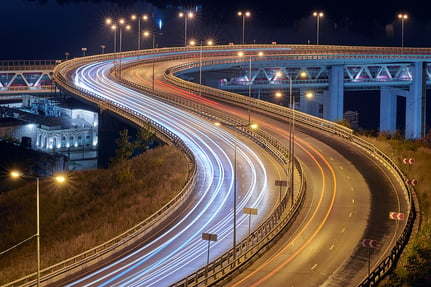 As we noted in our 2021 outlook article, we are in the midst of a capacity crunch. Before COVID hit, capacity was unsteady due to the driver shortage. This shortage has been caused by large numbers of truck drivers leaving the profession, combined with inadequate numbers of new drivers to replace them.
The problem is even more severe in the bulk transportation industry which, as a specialized service, has a smaller pool of qualified drivers to begin with.
Unsurprisingly, the capacity crunch has worsened during the pandemic. The pandemic took – and continues to take – more drivers away (at least temporarily). The COVID-related factors that are further reducing the driver pool include personal illness, exposure to infected persons (i.e., quarantining), home and childcare responsibilities, and trucking carrier business closures.
On top of this, new FMCSA regulations related to drug use have reduced the driver pool even further.
So, if there was a fragile balance between supply and demand before the pandemic, the scales have since tipped much further to the 'demand' side.
What can you do to secure freight transportation services?
As carriers have many shippers vying for a limited number of loads, they can be discriminating about the loads they haul. As you battle the competition to secure capacity, your best course of action is to make your freight as attractive to carriers as possible. Following are some ways to do that.
Prepare to pay more. In a seller's market, carriers can dictate rates. So, until the supply-and-demand scale becomes more balanced, prepare to pay more for freight transportation services than you did prior to the pandemic.
Give as much lead time as possible. In this climate, the odds of securing transportation for a load with just a few days of lead time is highly unlikely. Most carriers are currently scheduling a week or even a week-and-a-half out. If you're looking for capacity around major hub areas like Chicago, New Jersey or Texas, it could be even longer. So, your best strategy is to schedule loads as far in advance as possible and give carriers a long enough runway to accommodate you.
Be flexible. In addition to increasing lead time, give your freight transportation partners leeway when it comes to load and unload windows. You don't need to give them open-ended 24-hour windows but locking into a specific 4-hour window may scare many carriers away. Being flexible increases your chances that carriers will accept your load.
Make sure your facility is driver friendly. The more accommodating your operations are to carriers and drivers, the more likely it is that they'll want to continue to work with you. As such, you want to make sure that your facilities provide rapid turnaround, are clean and safe, and treat drivers with respect. Other driver-friendly facility characteristics include:
Check-in windows manned at all times
Clear signage or instructions on where to load/unload
Safe environment for driving, clear of barrels and debris, with load/unload locations that are easy to reach
Clean bathroom facilities and break rooms
Weigh scales on site or at a convenient off-site location
Attitude of respect and helpfulness toward visiting drivers
Turn to a freight transportation services broker
If you find yourself talking to bulk carrier after bulk carrier but having little success moving your freight, one call to a freight broker can change that. Your freight broker has a network of carriers it can lean on to service your load. And, if one carrier can't handle it, the broker can simply turn to the next one in its network. Many quality brokers have networks that consist of several hundred carriers – all of them thoroughly vetted. So, there's usually several carriers that are qualified to handle your product in your lane.
Best of all, there are freight brokers that specialize in bulk freight transportation. Bulk Connection is one such company. We have one of the largest networks of bulk carriers – both dry and liquid bulk – in North America, along with the experience and expertise to get the job done right.
So, if you're looking to get off the carrier carousel and get your goods in motion, contact Bulk Connection today to learn how to get started.