Is 2023 the year where the supply chain finally settles down, or are we in for more instability? To get a read on how things currently stand and where an expert thinks things are headed, we sat down with Bulk Connection's VP of Operations, Andrew Scibelli, for a Q&A session.
What is the bulk freight landscape right now?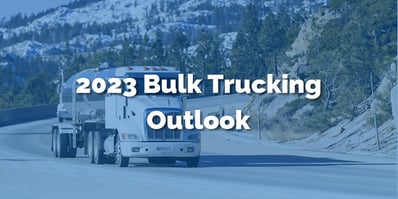 It's still busy, though things have slowed down from the frantic pace we experienced the last two years. Now it's kind of controlled chaos, leveling out at what the new normal might be.
I think the rates will moderate and go down a little bit. And by 'a little,' I mean a few percentage points – 5 percent or so. But they're not going to return to pre-Covid levels. Those days are gone.
What's the situation with shipper RFQs?
The shippers – very understandably – want to lock up lower rates for as long as possible. And as a bulk transportation company, it's very hard to play that game now. It would be irresponsible. There are simply too many variables in the marketplace.
What are variables that make locking in rates difficult, if not impossible, right now?
A big one is China. We don't know if a Covid resurgence will lead to factory closings or slowdowns . There's just too much unpredictability at the moment. If there's even a whisper of the events of last year repeating again – even on a smaller scale – it changes everything.
Then you throw in weather-related events. Right now, we're dealing with problems in California related to manufacturing plants that have been impacted by the storms out there. And, of course, it's winter and even though it hasn't snowed much in most of the country, it just takes one storm like the one that hit Texas last winter to put large swaths of the supply chain in disarray.
That's one of the many reasons why the RFQ issue is a really delicate one. Transportation providers are expected to lock in capacity and rates. But what happens when shippers aren't able to ship at the contracted volumes due to weather events? There's then a negative impact to the carriers and to brokers because that revenue suddenly disappears.
What are factors that have led to things quieting down?
A lot of it has to do high inventory levels. Companies have stocked up to guard against disruption and uncertainty, which is always a smart move.
Then there's also the unseasonably warm weather that much of the country has experienced so far this winter. Bulk items that usually ship constantly during the winter – things like de-icing chemicals and antifreeze – are really slow right now because the weather has been much warmer than usual.
Of course, there's also rising interest rates and economic slowdown. We're seeing a much lower-than-usual volume of shipments related to new construction projects and remodeling projects. So, there could be an economic effect, too.
But shipping remains active, albeit slower. Where a company may have been shipping 4-5 loads a week, it might just be 2-3 loads now.
What do you anticipate for the first half of 2023?
As bulk freight transportation activity is a great indicator of manufacturing activity, it seems that manufacturing is slowing a bit.
It all comes down to consumer spending, which is the tail that wags the dog. If consumer spending picks up, then manufacturing will pick up, and so will bulk transportation.
But right now, we're seeing more carriers looking for freight. This is a far cry from a year ago, where there was more freight than carriers could handle, and carriers were jumping through all kinds of hoops to hire drivers. Now we're hearing about some small-to-mid-size carriers letting drivers go, though that's not really happening too much for bulk drivers – it's more in the dry van world.
And before you say, 'I thought there was a driver shortage!" remember this. There's a driver shortage when the trucking industry is working at about 80% capacity or higher. When it's lower than that, smaller carriers will have to lay drivers off.
What's your advice for shippers for the first half of 2023?
Shippers should give themselves as many options as possible. That could include working with additional carriers or establishing a relationship with a bulk freight broker like us that can help them now and down the road.
I also understand the need to issue RFQs and try to lock in the best rates. As we've seen the past few years, however, there's really no such thing as "locking in" rates when markets change, as carriers simply won't support those rates.
So, plan accordingly. Plan for what you see now. But also plan for a rainy-day scenario because, as we've seen, the exception seems to be the rule as of late.