Throughout the year, the Bulk Logistics Blog keeps readers informed of key topics and challenges within the world of bulk freight shipping. The following articles are the ones that readers connected with most in 2022.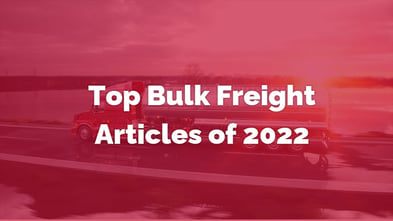 What does a freight broker do to add value for shippers?
To answer this question, we sat down with a real-life freight specialist – Bulk Connection's own Dry Bulk Manager, Scott Wilson – to talk about the role of the freight broker and the advantages for shippers in partnering with one.
Many people would like to 'be their own boss' but it's often a goal that doesn't seem attainable. If, however, you have a solid background in the transportation industry, such a goal may be much easier to achieve than you realize. It can happen by becoming a freight agent.
7 Tips for Sourcing Tanker Truck Capacity
The unwillingness of bulk shippers to take the steps required to become "shippers of choice" is a danger sign in a seller's market, where transportation providers are more selective about the companies they haul for and the locations they visit. This article offers 7 tips bulk shippers can take to make their freight more attractive to obtain tanker truck capacity and keep their supply lines moving.
Happy Holidays from Bulk Connection. We'll see you in 2023!