Safety needs to be at the forefront of any decision you make when hiring hazardous freight carriers. A wrong move in the selection process can not only put your product in jeopardy, but also the driver and the public at large. In this article, we'll tell you why an experienced and reputable 3PL bulk freight broker can be the resource you need to ensure the safety of your bulk shipments.
Why work with a freight broker to source hazardous freight carriers?
1. Reputable freight brokers won't give your load to just anybody. With the prices of just about everything sky high, the temptation is great to put your load out for bid – whether with carriers directly or through a load board – and go with the lowest rate. This thinking may be somewhat acceptable if you are shipping a dry van full of toilet paper, but with bulk transport – hazardous freight in particular – it's downright dangerous.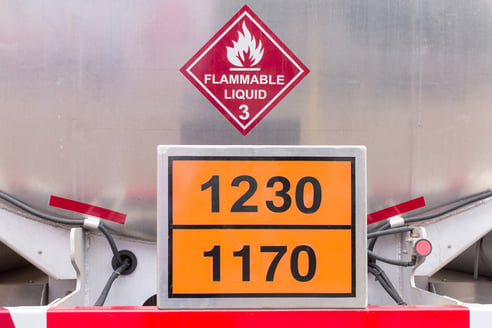 There's a lot that can go wrong with a 40-ton (gross weight) hazmat shipment traveling down the highway. And you do not want to be held responsible in the event of an accident or other mishap. According to the law firm Plaxen Adler Muncy, "shippers can be held liable for truck accidents if it has been discovered that the shipper failed to properly inspect the trucking company's licensing, registration, and safety records. Shippers can also be held liable for truck accidents if they have failed to abide by the Federal Motor Carrier Safety Regulations (FMCSR) from the Federal Motor Carrier Safety Administration (FMCSA)."

If you blindly hire a carrier from a load board or otherwise hire a carrier without performing appropriate due diligence, you could be held responsible if an accident occurs. The same can apply if you hire a freight broker that doesn't perform its due diligence in vetting the carrier it hires on your behalf.

So, when you hire a hazardous freight carrier, you need to make sure that you or your freight broker vets the carrier thoroughly. Reputable freight brokers will never give your load to a carrier without proper due diligence.

2. Reputable freight brokers have thorough carrier vetting processes. So, how do you properly vet a hazmat carrier?


Vetting a carrier involves acquiring key documentation – not just taking the carrier's word for it. This documentation includes basics like operating authority, safety scores from the FMCSA, and driver certifications. It also includes insurance information.

Before you book a load, you or your freight broker need to ask the carrier's insurance company to send you a certificate of insurance. This certificate will include coverage details, policy number and expiration date. Importantly, you will want to receive this insurance certificate from the insurance provider directly.

If the carrier's insurance company sends you a copy of the carrier's insurance certificate, you then become a "certificate holder" in the eyes of the insurance company. If there is any interruption of coverage, the insurance provider will notify the certificate holders on record of these changes. It is far less likely that your carrier will notify you of such occurrences.

You also need to make sure that your carrier has adequate liability and cargo insurance. Most carriers are required by the FMCSA to have a liability insurance policy that covers between $750,000 (typical for non-hazardous dry van shipments) and $5,000,000 (typical for hazmat shipping). As a shipper, you will want to make sure that your carrier's cargo policy includes adequate coverage for the value of your products (e.g., if you're shipping $250,000 worth of products, your carrier's cargo policy should cover at least that amount).

Carriers often hold both policies with the same insurance provider – but this is not always the case.

And, just as you properly vet the carriers that haul your freight, it is also wise to vet their insurance companies. You may find that an insurance provider's less-than-stellar reputation makes it undesirable to work with a given carrier.

As an alternative to vetting transportation companies yourself, you can partner with a freight broker that thoroughly vets all its carriers. Bulk Connection, for example, has a department dedicated to just that. This process is designed to keep carrier information current while weeding out providers that fall short. By working with such a freight broker, you effectively sidestep the time and resources needed to perform this vital responsibility yourself.

3. Reputable bulk freight brokers have certifications to give you peace of mind. So, you know you need to thoroughly vet the hazardous freight carrier that's hauling your product. But what about freight brokers? Can you just take them at their word that they're safe and reliable?


In our view, that's a hard "no." It's much better to work with a freight broker that is certified by a reputable outside agency. With this approach, you're getting peace of mind that the freight broker's processes – from quality assurance to appropriate vetting and documentation – comply with a set of standards.

As an example, Bulk Connection is an ISO-9001-certified bulk freight broker.

"ISO" stands for the International Organization for Standardization – an independent international organization that develops standards to define expertly-agreed-upon methods of performing tasks to ensure quality and consistency. There are 21,769 standards, with quality management (ISO 9001) being the most common within the logistics industry.

But ISO certification is not common among freight brokers. For instance, when we at Bulk Connection became ISO-9001-certified in 1999, we were one of the first bulk freight brokers to do so (to our knowledge).

Not all ISO standards require certification (ISO-9001 does) and ISO does not perform certification itself – external auditing organizations do. When a company is ISO-9001 certified, it means that the external auditor has found the company to be compliant with this standard.

ISO-9001 sets requirements for a quality management system (QMS). The QMS includes steps and processes to ensure that a company's products and/or services meet customer expectations and regulatory requirements. The 8 main principles of ISO 9001 are as follows.
Customer focus
Leadership
Involvement of people
Process approach
System approach to management
Continuous improvement
Factual approach to decision making
Mutually beneficial supplier relationships
As an ISO-9001-certified freight broker, these ISO principles set the foundation of all our operations and guide all of our processes and procedures. Our compliance with ISO-9001 helps to ensure consistent quality service, prevention of errors, rigorous continuous improvement methodology, meticulous documentation, and the careful vetting of carriers that handle our customers' loads.
Lean on Bulk Connection to source bulk hazmat carriers
So, you can see that there's much more that needs to be considered when hiring hazmat carriers than timetables and lane information. To learn more about how a true bulk transport professional can safely connect your loads to the most qualified hazardous freight carriers in North America, contact Bulk Connection today.