To people outside of the supply chain industry, the world of freight transportation must seem like a never-ending carousel of problems and challenges. But we know that's only part of the story.
In the spirit of Thanksgiving, we'd like to take a moment to recognize all that we're thankful for within the bulk transportation industry.
Bulk Transportation: It's About People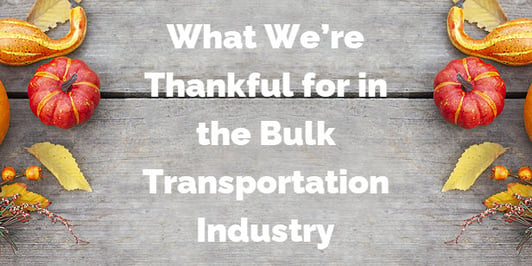 From where we sit as a 3PL bulk freight broker, we see a lot that happens beyond the headlines. Most of all, we see the men and women that work selflessly, day in and day out, to keep supply lines flowing in the face of COVID-19 and the disruptions we all read about. The following people are high up on our gratitude list.
Shippers. Without shippers, there is no bulk transportation industry. They've had to contend with moving targets in regard to capacity, schedules, and pricing. It hasn't been easy. In a seller's market for freight, shippers have had to become "shippers of choice" – making their operations as carrier-friendly as possible to secure freight capacity. This includes measures like booking loads far in advance of what they're normally accustomed to and keeping facilities open longer for loading and unloading. Their understanding during challenging times has fostered stronger relationships with carriers and freight brokers.
Carriers. Bulk trucking has never been an easy gig, but the events of the last few years have seemed like a cruel joke at times. Whether it's getting stuck at an undermanned tank wash facility or waiting days at a manufacturing plant for product to arrive, carriers, dispatchers and drivers have had to roll with some heavy punches. They have responded, however, with incredible resolve by working tirelessly to recruit and retain drivers to boost capacity, and by shifting existing capacity around to cover as many loads as possible – as quickly as possible.
Tank wash facilities. As unsung heroes within the industry, tank washes have been challenged by labor shortages and workplace safety protocols related to COVID-19. While not always able to operate at full speed, they continue to find ways to get the job done. This entails staying open longer to service more trucks and offering competitive wages and benefits to attract more workers. Meanwhile, the workers themselves should be lauded for continuing to show up and work hard during these challenging times.
Manufacturing plants and loading/unloading sites. Much like tank wash facilities, manufacturing plants and loading/unloading sites have had to deal with labor shortages and new COVID-related protocols. Workers at these sites – from schedulers to loaders and unloaders – have been among the most selfless in the industry. Whether it's opening the facilities during off hours to accommodate drivers, or working overtime to fill in labor gaps, the hard work of these people has done much toward keeping bulk transportation operations moving.
Last but not least, we're very grateful for our associates – the men and women of Bulk Connection. In the above text, we've used words like "selfless" and "tireless" to describe the actions of others. But those same words perfectly describe the Bulk Connection team.
Over the past several years, we've seen these people regularly work late into the night and on weekends to support the loads of as many shippers as possible. We've also seen associates learn brand new roles to support areas of the business which have been historically busy. We're grateful for the dedication of these people, whether during challenging times or calmer ones.
Happy Thanksgiving from all of us here at Bulk Connection.