As we reach the halfway point of 2021, the story in the bulk freight world continues to be the combination of high volumes and low capacity. This edition of the Bulk Freight Roundup will look at both, along with some of the Q2 highlights from the Bulk Connection blog.
The graph below shows bulk freight volumes that Bulk Connection has handled over the last 8 quarters. Q2 2020 was when the entire transportation industry – and much of the world for that matter – came to a standstill due to COVID-19. The rest of 2020 saw volumes gradually rebound. However, these volumes haven't just rebounded from the pandemic-related dip, they're substantially higher than they were before the pandemic.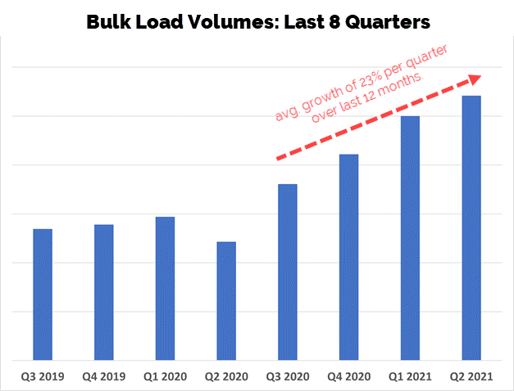 As companies have sought to replenish inventory (including excess stock) and keep up with frenzied consumer demand, carriers haven't been able to handle all the loads coming their way. Many shippers have thus turned to bulk freight brokers like Bulk Connection to provide capacity.
From Q2 2020 to Q2 2021, bulk freight volumes have grown by an average of 23% per quarter. And, while the growth from the first two quarters of 2021 isn't quite as dramatic as what we saw in 2020, the growth is continuing. We expect it do so for the remainder of the year.
If the capacity was there, these volumes would be significantly higher. The problem, of course, is that capacity remains tight and will remain so well into the future as the driver shortage continues to affect all sectors of the transportation industry.
What shippers can do heading into Q3
In addition to the tips we share in our free eBook on securing freight capacity, the most beneficial thing that you can do as a shipper is to be flexible with the carriers and freight brokers you work with. This means giving transportation partners more advance notice when booking a load. With shipping volumes high and capacity tight, it's rarely possible at the moment to get a load on the move with just a few days' notice. A weeks' notice or more will put you in the best spot to secure capacity.
What carriers can do heading into Q3
With shipping volumes as high as they are, bulk carriers have all the freight opportunities they could hope for. While this seller's market won't last forever, it now looks like it will extend much deeper into 2021.
Lean Bulk Connection in Q3
If you're a shipper looking for capacity, let Bulk Connection match your load to our national network of qualified carriers – one of the largest bulk freight networks in North America. Or, if you're a carrier looking for loads, look no further than Bulk Connection to match your capacity to our customer base.