Trucks and drivers are hard to come by; we all know that. And, if you're a shipper of bulk hazmat products, you know that tanker trucks and drivers are even harder to come by. With such scarcity, you can't afford to choose the wrong transportation provider. In this article, we'll look at what hazmat tanker trucking companies can do for your business, and how you can find the right one for your operation.
Getting to know hazmat tanker trucking companies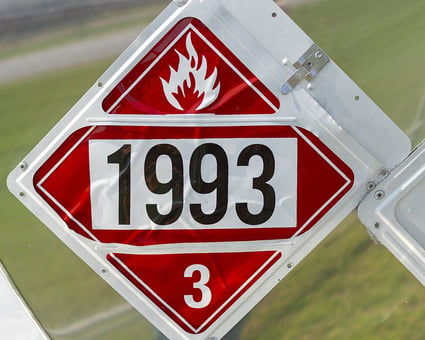 When you're looking for a liquid bulk freight transportation provider to handle hazmat loads, you'll find both carriers and freight brokers.
Carriers are the trucking providers that have the equipment and the drivers that actually handle the loads. Freight brokers, on the other hand, do not have their own equipment and drivers. What they do have is a carrier network built upon partnerships with a variety of carriers.
This network is one of the main advantages that a freight broker brings to the table – especially when it comes to sourcing capacity. When you work with a carrier directly, you're matching your freight with only that one carrier's capacity and capabilities. When the carrier doesn't have capacity, you're out of luck.
When you work with a freight broker, however, you're matching your freight with the capacity and capabilities of an entire network of carriers. When you consider that some freight broker networks consist of hundreds of carriers, this can be a major difference. When one carrier in the network can't provide capacity, your broker can turn to its next options until capacity is secured.
Finding an experienced hazmat trucking company
Capacity and cost are very important factors in choosing your provider. But don't let those criteria overshadow another key component: experience. You need to make sure that the transportation provider you choose to haul your product not only has the equipment and driver to handle it, but also has handled it – or a very similar product – before.
Like any industry, the bulk transportation industry includes many carriers and freight brokers that are experienced, reliable, and safe – as well as some that are unproven in those areas. To separate the pros from the rest of the pack, you'll need to thoroughly vet your prospective transportation partners. There is simply too much at stake with a hazmat load not to do your due diligence.
Such vetting can include the following elements.
Carrier documentation including motor carrier number, operating authority, federal I.D. number, hazmat certification, insurance information and TSA certification.
Carrier driver documentation including CDL-endorsement information, as well as TWIC information. In terms of CDL endorsements, hazmat drivers will typically need both the tanker endorsement (N) and the hazmat endorsement (H).
A certificate of insurance, which will include coverage details, policy number and expiration date. This insurance certificate should be obtained from the insurance provider directly. Freight carriers are required to have both liability and cargo insurance policies. Most reliable brokers also carry their own insurance instead of simply relying on carriers' insurance. Common types of insurance among brokers include contingent liability insurance, contingent cargo insurance, and errors and omissions insurance.
Questions regarding the provider's product capabilities, personnel, training programs, equipment, and experience
References from shippers that have products similar to yours
Certification from a quality program (e.g., ISO-9001)
Memberships with industry groups such as the Transportation Intermediaries Association [TIA], National Tank Truck Companies [NTTC], National Association of Chemical Distributors (NACD), and even the Better Business Bureau (BBB).
Leaning on a freight broker with hazmat tanker expertise
You can perform this vetting for each carrier you're interested in working with, repeating the process for each. Or, you can simplify matters by vetting one freight broker and then allowing that freight broker to vet all the carriers in its network for you. This is precisely what leading bulk freight brokers like Bulk Connection do with their networks.
At Bulk Connection, for example, we have an entire team solely dedicated to carrier compliance. We manage this information for every carrier we work with. We ensure that the information is current, and we will never tender your product to a carrier that doesn't meet our stringent requirements (nor one with less than 2 years of hazmat transportation experience). So, when you call for a rate quote, you can be assured that any carrier we select has been carefully vetted.
As for experience, Bulk Connection was founded in 1987. In our decades within the bulk freight industry, we've safely and reliably handled just about every type of hazmat chemical that can be hauled in a liquid bulk tanker or dry bulk trailer. To learn more about putting this experience to work for you, contact Bulk Connection today.