If you're a shipper of chemical products, you already know that chemical bulk transportation services are hard to come by in the current tight-capacity market. What you may not know is that you have a key ally that can help you navigate the market, regardless of how tight capacity may be. That ally is the bulk freight broker, and in this article we'll explain some of the benefits of working with one.
Freight broker advantages for chemical bulk transportation services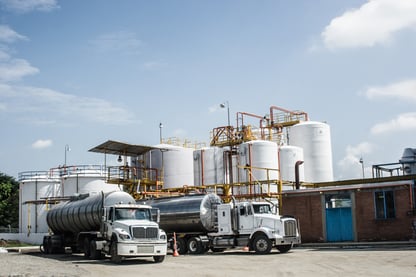 The key difference between working with a carrier directly and working with a freight broker is that when you work with a carrier, you're matching your freight with that one carrier's capacity and capabilities. When you work with a freight broker, on the other hand, you're matching your freight with the capacity and capabilities of an entire network of carriers.
In one phone call, your freight broker can take your load and product requirements and then match it with the carrier in its network that is most qualified and best able to transport it. As many freight brokers have networks that include hundreds of carriers, that's a lot of reach for one single point of contact. That's also a lot of options during times of tight capacity.
There are actually freight brokers out there that specialize in bulk freight and work with hundreds of pre-approved bulk trucking companies. The advantages of these specialized chemical bulk transportation brokers include the following.
Freight brokers know your chemical products. Whether your product is liquid or dry bulk, hazmat or non-hazmat, a freight broker that specializes in chemical bulk transportation has likely shipped it – or a similar product – many times. It can combine that experience with information from your product's Safety Data Sheet (SDS) to find the carrier that has the equipment to haul it safely.
Freight brokers are equipment agnostic. Unlike carriers, freight brokers have no equipment of their own. There is thus no incentive to using its own equipment to handle your products. In the eyes of the freight broker, the best carrier and equipment match for your product gets the load. Period.
Freight brokers can offer one-stop pricing. Let's say you have product that can be shipped in a bulk trailer or in totes. With one call to your freight broker, you can receive quotes for each mode of transport to help guide your decision. This saves you the time of hopping from carrier to carrier and going through repeated input processes to receive quotes for each mode.
Freight brokers can augment a bulk shipment with dry van. There will be instances in which you have leftover product after you fill a bulk tank or trailer. If the amount of remaining product isn't enough to fill another tank or trailer, most chemical freight brokers can ship it in a tote or drum within a dry van. As with the one-stop pricing benefit, this would be part of one single shipping process, allowing you to handle all shipping details one time with one single freight broker.
Freight brokers handle carrier vetting for you. While a network of hundreds of carriers certainly sounds like a great benefit, you may wonder how a freight broker can vet so many carriers to ensure they're all qualified to handle your products safely. Bulk freight brokers like Bulk Connection have dedicated teams of employees that are solely responsible for the management and updating of licensing, insurance, and regulatory compliance information for every carrier in their network. Not only does this give you peace of mind, it also saves you time as you don't need to perform this vetting yourself.
Know your product to ensure safe chemical bulk transport
While there are many things that a bulk freight broker can do to support your business, there are some things you can do to make process smooth and efficient. The most important is knowing your chemical product and communicating key information to your freight broker. This information includes:
Product information (e.g., liquid or dry, hazmat or non-hazmat, required temperature range)
Your product's Safety Data Sheet (SDS)
Equipment requirements (e.g., tank requirements, rear or center unload requirements, hose length needed, incompatible prior products)
Lean on Bulk Connection for chemical bulk transportation services
If you'd like to see the benefits of working with a bulk freight broker in action, be sure to contact Bulk Connection. We are an ISO-9001-certifed freight broker with one of the largest bulk carrier networks in the U.S. We have over 30 of experience in the industry, so whatever your product requires or what the market conditions may be, we've seen it and know how to handle it.