In our ongoing feature, we periodically profile the men and women who make Bulk Connection a trusted freight partner. In this article, Betty King, Liquid Bulk Transportation Specialist, talks about Bulk Connection's role as a liquid bulk transportation company and how it adds value for our customers.
What is the role of a liquid bulk transportation specialist?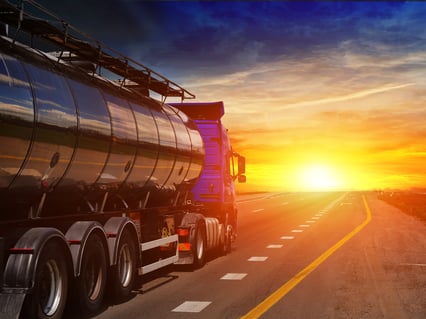 I interact with everybody involved with a liquid tank shipment. This includes the shippers, carriers, vendors, and consignees. I work with shippers to understand their needs and then find capacity for their loads. I work with carriers to find the most qualified carrier for a particular load and then arrange all load details and paperwork submission. I then follow up with shippers and consignees to make sure that everybody is on the same page and able to accommodate the loading/unloading details.
I also perform customer service and account management responsibilities related to all of the groups of people mentioned above.
When did you start working at Bulk Connection?
16 years. I stared in the dry van division and worked there for 5 years before switching over to the liquid bulk side.
How has your role changed in the past year with the pandemic?
We're certainly busier. After the industry slowed to a crawl last spring, our volumes have risen dramatically and remain high. It's a carrier's market right now, and shippers are doing everything they can to get loads on the move. It's my job to help them. It's also my job to help carriers when they report available capacity in a given lane.
How do you make life easier for shippers?
As we always say at Bulk Connection, it's really all about personal relationships. We are very good at establishing a rapport with shippers. I have my own set of shippers that I work with closely just about every day, as does everyone else on here on my team.
These relationships help everything run smoothly. By getting to know their businesses. I can then match that knowledge with carrier capabilities. I then bring that information to my shippers to see if there are bulk transportation opportunities they'd like to take advantage of.
On the flip side, they can tell me that if there's a production delay or another occurrence that will set an existing load back a while. This typically gives me enough time to reschedule the load and take care of other customers that need to move product.
I can also let my shippers know when a driver is going to be running late due to traffic or weather. If the driver is going to be late enough to negatively impact the project timeline or expenses, I can reschedule the load at a time that works for all parties.
How do you make life easier for carriers?
Just like our relationships with carriers can benefit shippers, so can our relationships with shippers benefit carriers. Because we have insight into the full supply chains of shippers – from manufacturing to final delivery – we can match that information to carrier schedules and lanes and give them business when there is a match.
We also provide a level of reliability that most carriers don't find from other brokers. For instance, a carrier recently told me that another broker gave him a better rate than ours, but he's going with us because "he knows exactly what he'll get with Bulk Connection." He knows that every detail of the load is planned out and double-checked ahead of time, leaving his driver to simply make the run without worrying about anything else.
Do you also work with consignees?
I'm glad you asked this question. This is a giant step that many brokers miss.
Often, the salesperson we speak with on the shipper side is eager to get a load on the move but may not always check to make sure everything downstream is buttoned up. So, what we do is we call the consignees and inform them of the incoming load details and schedule. You'd be surprised how many times that consignee will say, "no, no I can't take this for two weeks, my tank's full." So, with one simple phone call – and a subsequent rescheduling – we avoid time, headaches, and needless expenses for the shipper, the carrier and the driver.
What advice do you have for shippers that are struggling to find capacity?
My biggest advice right now is to give as much lead time as possible. Most liquid bulk carriers are booked out a week or more in advance. It seems like we see 10 loads for every truck right now. So, patience and foresight are important. Book your load in advance as soon as you know the load details.
Note: For more tips on securing capacity, check out our recent blog post: "Securing continuous bulk freight transportation services during COVID."
Working with a liquid bulk transportation company
To learn more about working with a liquid bulk transportation company, contact Bulk Connection today. We have over 30 years of experience handling anything and everything that can be transported in a liquid bulk tank. Betty and her team will be happy to put their expertise to work for you.