As March comes to a close, we see a continuation of the bulk freight trends established in January and February. This means high shipping volumes combined with limited bulk trucking capacity. This edition of the Bulk Freight Roundup examines bulk freight activity during the first quarter of 2021.
Q1 2021 in review
In terms of bulk freight (both liquid and dry bulk) volumes, the story of Q1 is "up, up and up." The high bulk volumes that were shipped in Q4 of 2020 increased further during the first three months of 2021. In fact, as Bulk Connection's graph below shows, quarterly growth of bulk shipments across our large base of bulk shippers has averaged just north of 20% since the pandemic reared its ugly head in Q2 of 2020.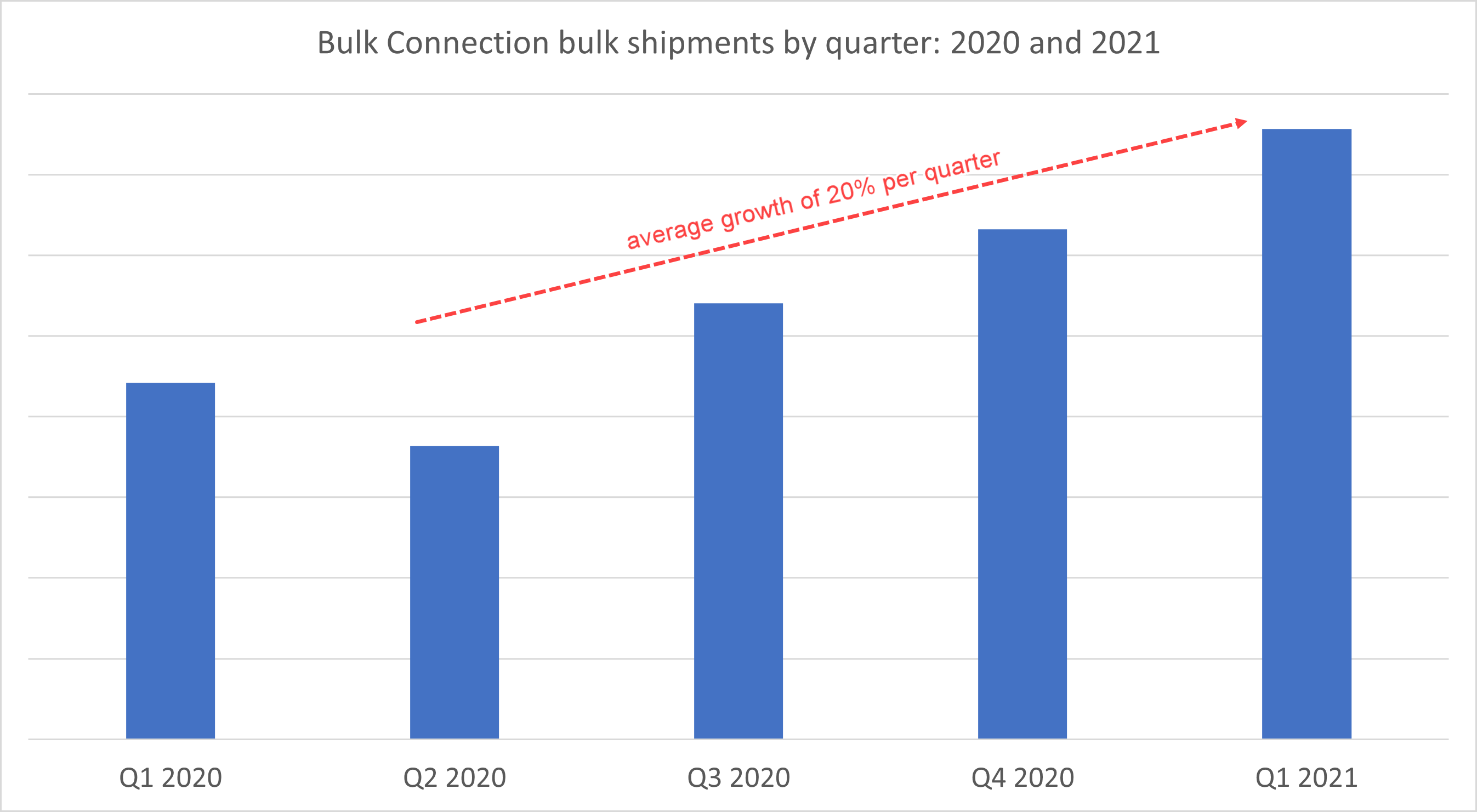 In looking at this graph, we see that shipping slowed considerably after the COVID-19 outbreak in March 2020. As things began to open up through the remainder of 2020, however, shipping volumes increased and continued to do so in Q1 2021.
So, demand is alive and well. The problem? Capacity isn't.
As we've written about extensively in our blog, trucking capacity was already tight before the pandemic. The tight capacity is mostly attributable to the ongoing driver shortage.
The pandemic only made this capacity crunch tighter, with new problems taking drivers out of their seats. These issues include driver illness or exposure to infected people, driver childcare/domestic responsibilities, carriers going out of business, and a reduction in truck driver school activities.
As the vaccine program advances, there is hope that the pandemic-related capacity concerns will have less of an impact as 2021 continues.
What shippers can do heading into Q2
In addition to the tips we share in our free eBook on securing freight capacity, the most beneficial thing that shippers can do now is to be flexible with the carriers and freight brokers they work with. Specifically, this means giving transportation partners more advance notice when booking a load. With shipping volumes high and capacity tight, it's rarely possible at the moment to get a load on the move with just a few days' notice. A weeks' notice or more will put shippers in the best spot to secure capacity.
What carriers can do heading into Q2
With shipping volumes as high as they are, bulk carriers have all the freight opportunities they could hope for. While this seller's market won't last forever, it's a good bet that it will extend much deeper into 2021.
Lean on Bulk Connection for your freight needs
If you're a shipper looking for capacity, let Bulk Connection match your load to our national network of qualified carriers. If you're a carrier looking for loads, look no further than Bulk Connection to match your capacity to our customer base.
We'll see you in Q2!