Is capacity tight? Are rates still high or have they come back down to earth? Is rail operating as normal or is it playing catch up after the winter? As we head into spring, we'd like to share what we've learned about the bulk transportation industry in Q1 so far – and what that could mean for the rest of 2019.
Q1 bulk transportation review
The year is off to a (bulk) shipper-friendly start, helped in large part by the following factors.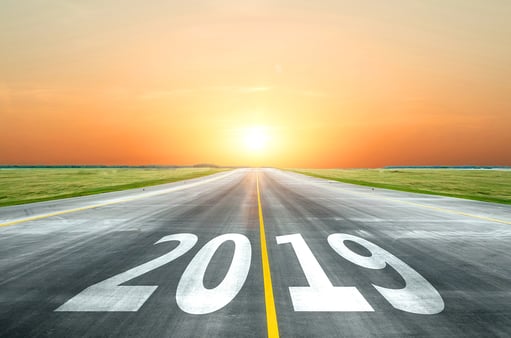 Capacity has improved. For LTL and other non-bulk shippers, the capacity crunch caused by the driver shortage continues to have a negative impact on operations. Trucks are hard to come by and prices remain high. For bulk shippers, on the other hand, the opposite holds true. Bulk capacity has eased in Q1 and prices have dropped.
The causes for this easing are partly seasonal but also appear to be related to a slight economic downturn and reduced activity within the bulk industry. Less activity frees up drivers and puts carriers back in a position where they're looking for loads – hence, the favorable rates for bulk shippers.
Rail is efficient. Depending on where you're based, this may seem like an ignorant or even cruel statement, but the truth is that the winter of 2018/19 simply wasn't all that severe, storm-wise, for much of the country. Areas like the Northeast that typically see several major storms have (knock on wood) gotten away relatively scot-free this year.
A major upshot of this is that rail has been able to operate without many interruptions this winter. Fewer interruptions means that there isn't a backlog of out-of-service railcars requiring trucks to come in and fill service gaps. The trucks are then free to handle 'business as usual,' which helps to further ease capacity constraints.
Bulk transportation trends to consider
While 2019 has seen a strong start for bulk shippers, recent history shows that it's never a good idea to assume that today's environment will exist tomorrow.
Spring capacity to tighten. The arrival of spring means that bulk capacity will start to get gobbled up across the country by companies shipping fertilizers, herbicides, and other agricultural products. The capacity that exists now in mid-March therefore isn't likely to be as readily available in mid-to-late April.
Carrier consolidation to continue. As with ocean carriers, large trucking companies are merging into even larger companies that account for more market share. These mergers can throw logistics operations in to a state of flux as shipper-carrier relationships can change seemingly overnight in the wake of a merger. Shippers may feel unsupported and ill-informed as the experts that once reliably guided their transportation ops are suddenly replaced by unknown names.
Smaller carriers are also negatively impacted as they struggle to compete with the immense resources of these newly-formed monoliths.
The driver shortage isn't going away. Depending on who you listen to, the driver shortage currently sits at between 60,000 and 100,000+ drivers. As aging drivers continue to retire and fewer young people enter the profession, this shortage is only going to worsen. So, despite the favorable Q1 landscape, the shortage remains a serious concern in the bulk shipping industry, where drivers can be harder to come by as they need additional training and CDL endorsements. It's still, therefore, a very good idea to seek to become a shipper of choice.
2019 bulk shipping takeaways
For shippers, now is a good time to strike while the iron is hot and shop for rates while the bulk transportation landscape is favorable. At the same time, you need to remain vigilant so that you aren't caught off guard when capacity tightens. Bulk freight brokers can help you with both: finding you the best rates across their nationwide carrier networks while helping you navigate trends that they often see coming well in advance.
For carriers, a partnership with the same freight brokers can help you source loads outside of your 'home' region and expand into territories where you may be relatively unknown. Just as brokers have large networks of carriers shippers can leverage, they also have large networks of shippers that need carrier services.
No matter where your bulk shipping responsibilities lie, contact Bulk Connection today to learn how we can serve your operation in 2019 and beyond.