Tank washes are a necessary part of life for us in the bulk freight industry. They can also be a very frustrating one. Locating a tank wash isn't always quick and easy – and locating one that has the services and amenities you require can be even more daunting. But you now have a new ally in your search for a tanker washout – the Bulk Connection Tank Wash Finder.
Introducing the Tank Wash Finder
Bulk Connection's Tank Wash Finder is an online tool that enables carriers, drivers and corporate transportation professionals to quickly locate tanker washout facilities across the U.S. and Canada. While there are a few similar directories in existence, Bulk Connection's is the most comprehensive – providing detailed information on facilities and services for over 400 wash facilities in North America. It is the result of an exhaustive campaign in which we contacted every one of these facilities to obtain detailed information about their services.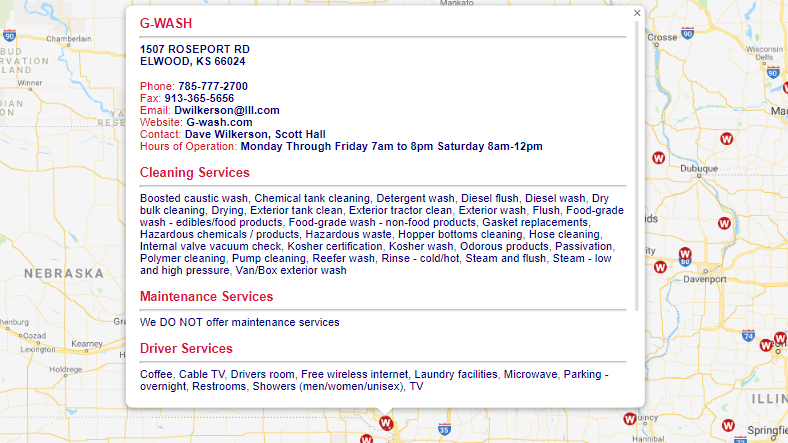 This detailed information is the key difference between the new Tank Wash Finder and other tank wash directories. The tool provides specific information about each facility's cleaning, maintenance and driver services – in addition, of course, to its address and contact information (which is all that the other directories provide). This level of detail is invaluable to bulk freight professionals who often have very specific product, safety and customer requirements to meet.
What information is included in the tool:
Examples of cleaning services that may be listed for a facility include:
| | | |
| --- | --- | --- |
| Acrylate cleaning | Food-grade wash (non-food products) | Passivation |
| Boosted caustic wash | Gasket replacements | Polymer cleaning |
| Chemical tank cleaning | Hazardous chemicals / products | Pre-solve application |
| Detergent wash | Hazardous waste | Pump cleaning |
| Diesel flush | Hopper bottoms cleaning | Reefer wash |
| Diesel wash | Hose cleaning | Rinse - cold/hot |
| Exterior tank clean | Internal valve vacuum check | Steam and flush |
| Exterior tractor clean | Kosher certification | Steam - low and high pressure |
| Exterior wash | Kosher wash | Shipper tank preps |
| Flush | Latex wash | Van/box exterior wash |
| Food-grade wash - edibles/food products | Odorous products | |

Examples of maintenance services information that may be listed include:
Tractor/trailer PM & DOT inspection/HM inspection
Tractor/trailer heavy duty maintenance
Tractor light duty maintenance
Trailer maintenance

Examples of driver services information that may be listed include:
| | |
| --- | --- |
| Coffee | Microwave |
| Drivers room | Parking - overnight |
| Food/vending machines | Restrooms |
| Free wireless internet | Showers (men/women/unisex) |
| Laundry facilities | TV |

How the tool works
Users can access the Tank Wash Finder on their desktop or mobile device by visiting tankwashfinder.com. Here's how it works:
Upon viewing the tool's entry screen, select the state or Canadian province in which a wash facility is needed
A map displays all tanker washout facilities in the area
Click on a location icon and view detailed information about the facility
Lean on Bulk Connection for all things bulk
The Tank Wash Finder is the brainchild of Jim Cordock, president of Bulk Connection, who began his career as a dispatcher in the bulk freight industry using paper maps and phone books to locate the right tanker washouts. "The technology we have now was unimaginable back then," says Cordock. "We wanted to create a practical, easy-to-use tool that would save dispatchers time and allow them to determine, without a phone call, the right facility for their needs."
Since 1987, Bulk Connection has sought to make life easier for carriers and shippers alike by providing a soup-to-nuts solution for bulk transportation. We pride ourselves on accounting for every aspect of a load - from securing the right equipment and drivers to planning final delivery and (of course) tank wash details, we've got you covered. To learn more about our bulk freight services, contact us today.