Shipping bulk food-grade products is one of the most complicated types of loads within the bulk transportation industry. To be handled properly, these loads require nothing less than a full-on fact-finding mission from your bulk transport provider. In this article, we'll examine the process of food-grade transportation and tell you what sets the best food-grade trucking companies apart from the rest.
Understanding the bulk food-grade transportation process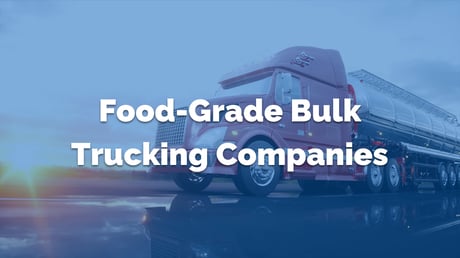 Importantly, the term "food grade" refers more to a product's requirements than its inherent makeup or properties. Not every product that requires food-grade transport will end up as a food or beverage ingredient. This is because the same products that become ingredients in food products have a variety of other uses, including use as components in technology manufacturing processes and in the manufacturing of cosmetics products.
The bulk transportation processes for food-grade products thus begin with a clear understanding of the product and its end use.
Common bulk products with food-grade requirements that we routinely handle at Bulk Connection include glycols, lauric acids, fatty acids, alcohols, wax, flour, sugar, steric acids, sauces, oils, glycerin, and sucrose.
Based on the type of product, liquid or dry, and the way it will be used, key considerations in the bulk transport process are as follows.
SDS sheets. Every food-grade chemical product should have a Safety Data Sheet that details the product's characteristics and information related to its safe handling and transport.
Equipment needs. Specific bulk equipment requirements must be identified throughout all phases of the load. This includes the loading site, the transportation journey, and the unloading site. Common requirements your transportation provider will need clarity on include the following.
Are there scales on site?
What is the receiving facility setup? What are the facility's operating hours?
Is a stainless-steel pump required (for liquid bulk)?
What are the hose and fitting requirements? Who provides these items (facility or carrier)?
Is an insulated tank required (for liquid bulk)?
Does the unloading facility require rear or center unloading?
Is a vacuum unit need to load (for dry bulk)?
Will the railcar (if applicable) need to be charged (for dry bulk)?
Are specific tank washes that must be used?
Incompatible prior products. Shippers will often have a list of products that must not have been loaded in the tank prior to the current load. In some instances, the shipper may only require that the tank's last three loads not include one of these products. Other times, it may be required that the tank has never hauled one of those products.
Tank washes. Although a key part of bulk shipments in general, bulk tank washes are a vital part of the food-grade trucking process as all risks of bacterial contamination must be thoroughly eliminated. The food-grade tank wash process typically goes like this:
Potable water must be used in all instances
The wash will start with a pre-rinse or degreasing with warm water
A thorough wash with hot water (at or above 185-190 degrees Fahrenheit) will occur with the use of a food-grade caustic or detergent cleaner
All valves and openings, along with the dome lid, are thoroughly cleaned
A lower-temperature sanitizing rinse will follow
Shippers, receivers, and manufacturers may have very specific guidelines that alter or add to this basic process.
Kosher considerations. Many food-grade products need to be certified Kosher. As such, the transportation and tank wash processes must comply with Kosher requirements.
Depending on the companies and products involved, a rabbi's blessing may or may not be required at the loading site and/or at the tank wash. And different rabbis may have different requirements. For example, some rabbis will require that metal seal tabs are used with the tank, while plastic seal tabs may suffice for others.
If a Kosher tank wash occurs, the wash facility will provide Kosher certification. This certification accompanies the driver to the loading site, where an inspection will occur.
During the inspection, facility personnel will match the seal numbers provided by the tank wash to the seal numbers currently in the tank to ensure they match. The tank, outlet valve, dome lid, and other components will then be thoroughly inspected.
If loading is authorized, seals will be reapplied, and a bill of lading (BOL) will be created. If a rabbi oversaw the process, confirmation of the above will be sent by the rabbi to the customer, shipper, and receiver.
If loading is not authorized, however, the entire process needs to start again – beginning with a new tank wash. Even the smallest detail can be the difference between getting the tank loaded and failing the inspection.
Lean on a bulk freight 3PL as your food-grade trucking company
With so many different requirements (and countless possibilities for variation within each), the food-grade trucking company you choose to work with must take it upon itself to uncover the necessary information. This means talking to customers, shippers, and receivers to uncover the answers to each possible question. It then means finding a carrier that has the equipment and know-how to put that information into action.
It is only through these efforts that your products can be transported safely, efficiently, and in full compliance with your requirements.
The best bulk trucking providers for your food-grade products will thus have two distinct superpowers in the areas of knowledge and communication.
In terms of knowledge, it is imperative that your chosen provider understands the product involved, the manufacturer/shipper/consignee requirements for handling of the product, the equipment needed throughout the transportation process, tank wash requirements, Kosher requirements, and all key details of the loading and unloading sites.
This knowledge is hard-earned. It takes years of handling a range of food-grade products to know what you're looking for.
Communication, on the other hand, should be the easy part – but it's often the hardest to come by. The act of picking up the phone to ask questions, to notify stakeholders of the load's progress, to answer questions, and respond to issues is a lost art. But it's what the job requires.
You need to make sure that your chosen provider has the skills and willingness to leave no stone unturned in the preparation of your load, and that they will field your calls 24/7.
Turn to Bulk Connection for food-grade bulk trucking
"Field your calls 24/7?!" Sounds crazy, right? But it shouldn't be. At Bulk Connection, that's standard procedure. Your success is our success, and we work tirelessly to ensure it. Have a question or issue at 4am? We'll pick up the phone and walk you through it – just like we'll walk you through every step of the entire load process.
When you combine that commitment with the decades of experience and a network of food-grade carriers throughout North America, the choice becomes clear. See why Bulk Connection is the go-to provider for food-grade bulk trucking by starting a conversation today.