Did you know that, in addition to transporting your liquid freight over the road, your bulk freight 3PL provider can also handle drayage of your bulk shipping containers? In this article, we'll take a closer look at this key supply chain service and let you know what to look for in a bulk freight drayage provider.
What is bulk liquid drayage?
Most people are familiar with the importing and drayage processes of finished products. Products are placed into a shipping container and then onto an ocean vessel for overseas transport, or onto a railcar for domestic rail transport. Once the ship or train reaches the destination port in the US, a drayage provider receives the container and trucks it to a warehouse or other destination.
The process for bulk liquid drayage is very similar – but with a few key differences.
Bulk shipping containers for liquid freight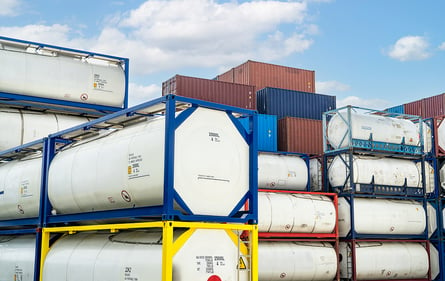 First, the bulk liquid products are typically shipped in either an ISO tank or a flexitanks.
ISO tanks are steel cylinders that sit within a metal, wall-less box frame. Most ISO tanks are approximately 20' long and 8' tall and can hold roughly the same amount of liquid as a standard liquid bulk tank. These tanks can be used to transport most liquids, including hazmat products.
Flexitanks are large bladder-shaped 'bags' that fit inside a typical 20-foot ocean container. They are made from materials such as polyethylene or PVC and are commonly used to transport food-grade liquids, non-hazardous materials, water, industrial products, and other liquids.
Flexitanks are more cost-effective and are typically discarded after a single shipment. ISO tanks, on the other hand, must be stored at an "ISO depot," which is basically an outdoor warehouse with ISO tanks stacked high and wide. However, manufacturers and shippers may store tanks at their facilities.
ISO tanks also need to be washed after use, either at an ISO depot or at a tank wash facility.
Much like regular shipping containers, these types of bulk liquid shipping containers can be used across multiple modes (e.g., ocean shipping, OTR and rail). The containers can simply be moved from one mode to the next. This is a major advantage at a time when the driver shortage has made it challenging for shippers to find OTR capacity.
Why partner with a bulk freight 3PL instead of a drayage carrier?
There are two basic types of bulk shipping companies that you can partner with. You can work directly with a drayage carrier that operates its own equipment at your chosen port. Or, you can work with a bulk freight 3PL that does not have its own equipment but instead has partnerships with a national network of carriers.
The following are some advantages of working with a 3PL:
The 3PL's carrier network is fully vetted. It can take a lot of time to find and interview drayage carriers. It then takes even more time to vet those carriers (e.g., acquiring and managing information related to insurance, operating authority, driver certifications, hazmat information, and much more). A reputable bulk freight 3PL will have already done this work for you, saving you time and giving you peace of mind in the process.
The 3PL's network gives you options. When you partner with a freight broker that utilizes a large national network, you can match your loads with (typically) hundreds of carefully vetted bulk freight carriers and drayage providers with a single phone call. Such a network can expand your shipping lane options and drive carriers to offer competitive rates for your business.
The 3PL can move freight fast. Large 3PL carrier networks allows for greater flexibility in meeting shipper timelines.
The 3PL is objective. When you work directly with a drayage provider, that provider is compelled to handle your project using its own trucks and equipment – no matter how long you need to wait for equipment to free up. When you work with a freight broker, on the other hand, the broker has no such bias. The broker is free to match your load with the most qualified carrier and equipment.
A freight broker can handle blind shipments. Many chemical companies choose to ship products 'blind.' No matter what your specific needs are, bulk freight 3PLs that specialize in chemical shipping can handle blind shipments for you just as expertly as your day-to-day carriers would.
What to look for in a liquid bulk drayage 3PL
Once you decide to partner with a bulk freight 3PL, there are certain factors that separate the true pros from the rest of the pack.
Knowledge: 3PLs that specialize in liquid bulk freight often have equal or greater knowledge of your products than carriers. At Bulk Connection, for instance, we've been handling chemicals for well over 35 years – and most of our sales agents have been in the industry for decades.
Experience: A quality 3PL will be familiar with the regulations governing transportation, the requirements of steamship lines and rail companies, the different types of drayage carriers, and types of equipment needed for each load.
Customer service: A quality 3PL will provide excellent customer service. This includes the ability to speak to an actual person 24/7.
Bulk Connection: a leading bulk shipping company since 1987
If you have bulk liquid products traveling by steamship or rail, you can't leave the last leg of the product journey to chance. You need a true bulk expert that knows your products and will guide you through the drayage process each step of the way. With decades of experience and one of the largest networks of bulk carriers in North America, Bulk Connection provides the commitment to quality that your products require. To learn more about our services, contact us today.