Nearly every product that we use on a daily basis started out in dry bulk form inside a pneumatic trailer. These materials need to be transported in raw form before being manufactured into bigger and better things. In this article, we'll take a closer look at this type of transportation and tell you what you should look for in the pneumatic trucking companies you work with.
What is pneumatic trucking?
With pneumatic trucking, also known as dry bulk trucking, bulk products such as powders and pellets are hauled in a pneumatic trailer. A pneumatic trailer is basically a metal cylinder, but with a series of cone-shaped hoppers at the bottom. Depending on the size of the trailer, there can be anywhere from one to six hoppers.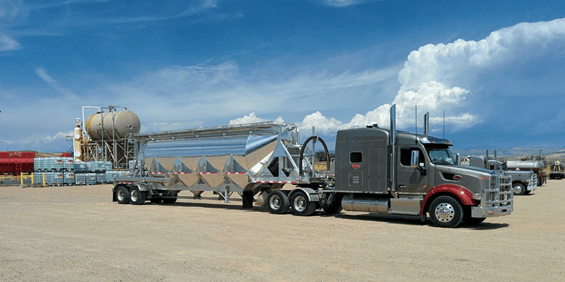 The trailer also comes with a series of openings called manholes, which are used to load the product. There are generally three to six manholes distributed along the top of and back of the trailer.
At the bottom of each hopper is a valve, opening into a pipe that runs below the trailer. Those valves are closed when a shipper loads the truck. When it comes time to unload, the driver opens them, letting product run out of the hopper and into the pipe.
Pneumatic trailers are unloaded with air pressure that propels material through the bottom pipe, along a hose to the silo or other vessel where the receiver stores product.
Dry bulk carriers generally use hoses, four inches in diameter, to blow material into and out of a trailer. When loading product from a rail car or offloading to a silo, those hoses may need adapters to connect them to other equipment.
Key pneumatic trucking considerations
Considerations before your load is picked up
During the planning stage, all parties involved must be on the same page in regard to the following.
Are there scales on site and, if not, how far is the closest one?
Is a self-loader required?
Is a vacuum needed and, if so, what hose size (and, importantly, what fitting size) is needed?
What are the facility's operating hours?
What vessel is the product coming out of and going into (e.g., rail car or silo)?
If it's a rail car, will it be in position when the driver arrives?
Have the contact phone numbers been tested for accuracy in advance of the driver's visit?
Have the details of the tank wash been agreed upon?
An experienced provider of dry bulk shipping services will ask even more questions specific to the product and type of tank.
Considerations upon delivery
The first consideration during delivery is paperwork. In addition to the bill of lading, many carriers and freight brokers provide a form for the receiver to sign that confirms all delivery instructions. For example, "on ____ date I have instructed driver ____ to load ____ pounds of blue plastic pellets using hose B1." This helps settle all the small details of the delivery and avoids ambiguity.
Despite everyone's best intentions, things can still go wrong. Let's say you're loading into rail cars and they aren't in position, requiring the truck and driver to wait on site. The driver is stuck, your product isn't being delivered, and the meter is running. Who can you call for assistance?
In such cases, it's helpful to have a freight broker with 24/7 customer service that will have your back throughout every step of the process. If something goes awry, it becomes their mission to work all the angles to make it right.
Considerations after delivery
After delivery, there's still a bit more work to be done. The paperwork must be scanned and distributed to all stakeholders, and the tank must be washed. And, while the specifics of the tank wash should be worked out in the beginning of the dry bulk shipping process, it's important to note its significance.
Depending on the material being hauled, a full conversion wash could be necessary. This is a more expensive and time-consuming form of a tank wash but it's an extremely thorough procedure that not only washes out the trailer, but also removes the lines and valves and washes them before putting it all back together. When you're talking about the integrity of a load worth tens of thousands of dollars, a few hundred dollars for a conversion wash is actually very cost-effective insurance.
What to look for in 3PL pneumatic trucking companies
Asking the following questions of your prospective freight partner can you help separate the pros from the pretenders in the world of dry bulk transportation.
How much experience does the provider have? When researching bulk freight transportation companies, you'll find ones with decades of freight experience, and ones with just a few years or even months. And, while experience isn't everything, it counts for a lot. You want to make sure that your chosen bulk freight broker is safe, reliable, and efficient. Anything less than the best in these areas can put your products, your reputation, and the safety of the public in jeopardy.


Does the provider have proof of compliance and insurance? You will need to ask your prospective partner – whether carrier or 3PL/freight broker – for operating authority and surety bonds, as well as regulatory compliance (as applicable). Failure to produce any of the required items should be a major warning sign. Most reliable brokers also carry their own freight carriers' insurance in addition to that of the carriers in their networks. Common types of insurance among brokers include contingent liability insurance, contingent cargo insurance, and errors and omissions insurance.
Are your 3PL's carriers vetted? By whom? Carrier records, once verified and vetted, do not update themselves. You need to know that your bulk freight partner is managing these carrier records and removing carriers from their database when they have severe violations or fail to update their compliance and insurance documents. Some bulk freight 3PLs, like Bulk Connection, have a dedicated team whose responsibility it is to keep these records updated and ensure that loads are assigned ONLY to carriers that are up-to-date and qualified to handle them.
Does your 3PL have a quality program? Certification within a quality management program like ISO-9001 shows that the company is committed to quality service and continuous improvement. The ISO-9001 standard helps to ensure quality and consistency. When a transportation provider is ISO-9001-certifed, it gives customers – both shippers and carriers of bulk freight – peace of mind that they're dealing with a company that is buttoned up. When you work with such a provider, you know it's following the strictest quality standards.
Is there round-the-clock coverage? As mentioned above, transportation is not a 9-5 operation. Your freight partner's customer service operation should be ready at any time. This includes nights and weekends.
Is the 3PL asking the right questions? When bulk freight 3PL providers collect information on a load, they should be asking questions. Lots of questions. For example: what is the cargo value? What type of pneumatic trailer does the product need? Is it hazmat? Is a safety data sheet required? Companies that ask the right questions offer a good indication they know what they are doing and are prepared to handle your product safely and effectively.
Does the provider have industry affiliations? As with experience, membership in professional affiliations can add to a freight provider's trustworthiness. Freight shipping affiliations like Transportation Intermediaries Association [TIA] and National Tank Truck Companies [NTTC], industry-specific affiliations like the National Association of Chemical Distributors (NACD), and even the Better Business Bureau (BBB) all show that the company is dedicated to the industry(s) and attaining the knowledge and resources to grow within it.
Turn to Bulk Connection for pneumatic freight transportation
Bulk Connection has over 35 years of experience transporting liquid and dry bulk freight across North America. Our network of carriers is one of the largest in the industry, and our ISO-9001 certification – along with several industry affiliations – give you peace of mind that you're dealing with a true professional that will leave no stone unturned on your behalf. To learn more about our pneumatic trucking services, contact Bulk Connection today.