For importers and domestic shippers, intermodal freight transport is a key component of the modern supply chain. And it's as essential for bulk products and materials as it is for finished products. In this article, we'll examine the role that third-party logistics (3PL) providers can play in transporting your bulk products between port and rail terminals and their final destinations.
Bulk intermodal freight transport for imports
For ocean shipments, bulk freight typically makes the voyage in either specialized containers or in compartments within the ship itself. For containers, liquid bulk products are often shipped in ISO tank containers, while dry bulk products (e.g., powders) can be shipped in bulk powder tanks (or in non-tank items like bags or super sacks). Each of these tanks is designed to be stackable for efficient stowage on the ship – and easy removal by port cranes. Once removed, these containers can be loaded onto truck chassis or rail cars.
As for compartments, some ships have specialized compartments to store liquid or dry bulk freight. These ships can arrive at designated port terminals where their freight can be offloaded into storage containers. The product can then be offloaded from the storage container into a bulk tank or trailer for OTR or rail transportation.
Bulk intermodal freight transport for rail shipments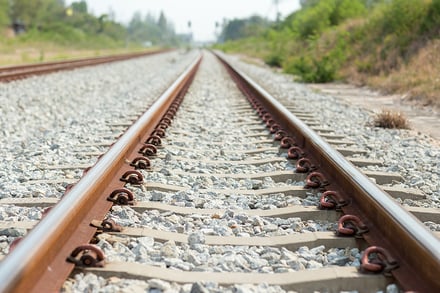 Bulk shipments that utilize domestic rail transport have several similarities to ocean transport. The products can be transported in ISO tank containers or bulk powder tanks and then offloaded onto a truck chassis for final delivery. These containers can typically be stacked two-high during rail transport.
In most cases, however, the product will be transported in bulk railcars – whether bulk rail tanks for liquid products or bulk rail hoppers for dry bulk. From there, product is offloaded into liquid or dry bulk trucks for OTR transportation. These bulk railcars are an efficient – though slower – form of transport. For example, the average bulk rail tank can hold the equivalent of 4 ISO tank containers.
How 3PLs can support intermodal bulk freight transport
As your intermodal operations will require truck transportation for different legs of your products' journeys, you will need to work with a transportation expert that knows the ins and outs of intermodal transport. Freight brokers that specialize in bulk shipping can rise to the occasion and provide the following benefits.
North American-wide coverage. If you have shipments arriving at ports and rail stations all over the country, you could spend a lot of time and resources partnering with individual carriers in each of those areas to handle your loads. Conversely, you can secure capacity for all of your locations with one call to a freight broker that has a North American-wide network of carriers. Your broker will then match your loads to the appropriate carriers in its network based on your product and shipment details.
Ability to handle rail interruptions. When rail service is interrupted – or if you simply want to augment rail shipments with truck transport to ship some of your product faster – you can lean on freight brokers to pull in trucks from its network and get your product on the move quickly. Again, the network is key as your freight broker is not bound by the capacity constraints that any single carrier may have.
Understanding of the equipment needed. Loading and unloading product between a bulk railcar and a liquid or dry bulk truck requires specialized equipment including pumps, hoses and fittings. Freight brokers that specialize in bulk shipping will understand these equipment needs and match the appropriate equipment to each of your loads. The same applies to the tanks and trailers themselves. Your freight broker will understand – based on your input and the product's Safety Data Sheet (SDS) – exactly how your product needs to be transported and will pair your load with the right carrier that can support it.
Vetting of carriers so that you don't have to. While finding individual carriers to haul your loads can be a time and resource drain, managing all the necessary paperwork related to those carriers can tap those resources even further. From operating authority to insurance information, there is a lot of paperwork that needs to be recorded and kept up to date to ensure that your load can be transported safely. You can spend the time and energy to manage these details for every carrier yourself, or you can leave it to an expert freight broker to handle it for you.
Lean on Bulk Connection for intermodal trucking
No matter how your bulk products are moving by ship or rail, Bulk Connection can get your goods in motion. We have one of the largest networks of bulk carriers in North America, along with 30+ years of experience to orchestrate that network to your exact specifications. To learn more about the advantages of partnering with a freight broker for the trucking legs of your intermodal freight transport journeys, contact us today.