Prior to the COVID-19 outbreak, dry bulk carrier capacity concerns centered on the driver shortage. While those concerns were still very real heading into this year, the current pandemic brought a new set of capacity challenges to the industry. In this article, we'll take a look at those challenges, how things currently sit, and how freight brokers can help with the capacity crunch.
How has Covid-19 affected dry bulk carrier capacity?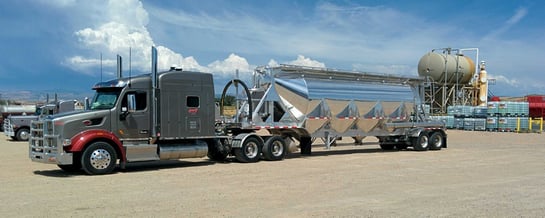 When COVID-19 hit the U.S., manufacturing, imports and other key supply chain stalwarts slowed substantially. Carriers that were feeling the financial pinch began to lay off and/or furlough drivers. Dry bulk carriers were no exception.
This reduction in drivers was further compounded by the virus itself as drivers who tested positive, developed symptoms or were potentially exposed to someone with COVID-19 would have to quarantine. In most instances, these quarantines resulted in drivers being off the road for 14 days or more.
So, when manufacturing began to kick back into gear, there weren't enough truck drivers to handle the loads, which resulted in tight capacity conditions. Drivers have gradually been brought back on board as manufacturing activity continues to improve.
These improvements haven't completely alleviated capacity concerns among dry bulk carriers. Dry bulk shipping is a specialized logistics operation with specialized equipment. As this equipment is far scarcer than, say, dry van trailers, even a relatively minor dip in capacity can have a big impact.
Currently, the equipment that's hardest to come by is food-grade pneumatic trailers and self-loading vacuum trailers.
There have also been storms across the country this summer that have tightened capacity even further. When these storms (e.g., hurricanes, tropical storms) hit and roads are closed and/or rail service is interrupted, trucks are brought in to fill in the gaps. However, this puts further strain on capacity as dry bulk trailers that are called upon in emergency situations further reduce the number of trailers available to handle regular, everyday loads.
How freight brokers can help you navigate a tight capacity market
As noted above, whether you need food-grade pneumatics, self-loading vacs, or any other type of dry bulk equipment, there's only so much to go around. In light of current capacity constraints, the dry bulk carriers you lean on regularly for service may not be able to help.
When this is the case, you can lean on a freight broker that specializes in bulk freight shipping to get your product in motion. Unlike dry bulk carriers, freight brokers have no dry bulk equipment of their own. But what they do have is a large network of dry bulk carriers. This network will likely include far more carriers than the ones you're familiar with, including smaller carriers and carriers from outside your regular operating region(s).
With this carrier network, a freight broker can source your freight to one of its many carriers on your behalf. So, instead of calling carrier after carrier on your own and going through the same input process , you can simply place one call to a freight broker and let that broker work its network for you.
Bigger is better when it comes to network size, so you'll want to find a freight broker that has coverage far and wide. With this coverage, your broker will likely have several available carriers near your freight – wherever it may be. This also applies to "hair on fire" scenarios like rail interruptions, where you need lots of trucks – and fast. Your freight broker can expand its radius to find carriers to swoop in and save the day.
Bulk Connection is an ISO-9001-certified freight broker that specializes in bulk freight. We have one of the largest networks of dry bulk carriers in North America, and pride ourselves in our ability to keep freight moving during times of tight capacity. We fully vet and manage the records of all our carriers so that when you book a load with us, you can rest assured that your product is only handled by qualified professionals. To learn more about working with a bulk freight broker to ease the capacity pinch, contact Bulk Connection today.