In many parts of North America, finding the nearest tank truck wash can be a challenge. There are many regions of the U.S. (e.g., New England) in which tank truck washes are extremely scarce. And, even in regions where wash facilities are more plentiful, it can be difficult to know whether a given facility can meet your specific needs.
In 2019, Bulk Connection solved this problem with its own Tank Wash Finder. In this article, we'll review the features of this important tool and tell you what we've added to it in 2020.
What is the Tank Wash Finder?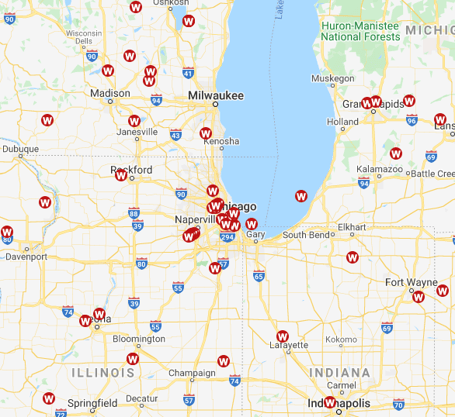 Bulk Connection's Tank Wash Finder is an online tool that enables truckers, carriers, and other transportation professionals to quickly access detailed information for over 400 tank wash facilities in North America.
To use this tool, simply visit tankwashfinder.com and enter the state in which you're looking for a truck wash. You'll be asked to enter information in 3 additional fields – but only the first time you use the tool; this information will not be required in subsequent visits. Once you've selected your state, click the "View Map" button.
From there, you'll see icons of all the wash facilities in the region. Simply click on an icon to view more information about the facility. Unlike other directories which provide only basic information like facility name, address and phone number, the information you see in the Tank Wash Finder will be much more detailed. This level of detail can save you from wasting hours-of-service time by driving to the nearest tank truck wash only to find out it can't meet your needs.
What information does the Finder provide?
In addition to basic facility information, the Finder will likely include details related to cleaning, maintenance, and driver services provided.
Examples of cleaning services that may be listed for a facility include acrylate cleaning, chemical tank cleaning, detergent wash, food-grade wash, Kosher wash, hopper bottoms cleaning, polymer cleaning, pump cleaning, reefer wash, steam and flush, latex wash, hazardous chemicals/products wash, odorous products wash, internal valve vacuum check, boosted caustic wash and much more.
Examples of maintenance services information that may be listed include tractor/trailer PM & DOT inspection/HM inspection, tractor/trailer heavy duty maintenance, tractor light duty maintenance and trailer maintenance.
Examples of driver services information that may be listed include overnight parking, microwave, coffee, food/vending machines, free wireless internet, laundry facilities, TV, and shower information.
Benefits of the Tank Wash Finder
The key benefit of the tool is that it removes the following headaches that transportation pros commonly encounter when looking for the nearest tank truck wash facilities.
Headache #1: Tank washes are hard to find. The Finder solves this by providing an easy-to-use map layout containing over 400 facilities in the U.S. and Canada. Furthermore, within a given facility's profile, you can click the "Directions" link to obtain Google Maps directions to the facility.
Headache #2: Facility services are unknown. As mentioned above, the Finder provides an unparalleled level of detail, so you won't have to drive 100 miles only to find out that the facility doesn't provide the services needed.
Headache #3: It's difficult to compare facilities. Previously, if you wanted to compare certain characteristics of tank wash facilities, you had to first hunt down the locations and then contact each to get specific details on hours of operation, costs, services provided, and other key details. The Finder makes all this information accessible quickly and easily.
Headache #4: Information can be outdated. The Tank Wash Finder is supported by a team of logistics pros at Bulk Connection that update facility information on a regular basis.
New feature for 2020
In addition to the stout features of the Finder tool itself, the page is now regularly updated with notices about regions in which Bulk Connection has loads that need servicing from carriers. As Bulk Connection works closely with shippers all across the country, carriers may do well to keep an eye on this page to check for load opportunities.
Lean on Bulk Connection for your transportation needs
If you're a shipper with loads to move, or a carrier looking to move them, Bulk Connection has got you covered. Since 1987, we have sought to make life easier for carriers and shippers alike by providing a soup-to-nuts solution for bulk transportation. We pride ourselves on accounting for every aspect of a load - from securing the right equipment and drivers to planning final delivery and (of course) tank wash details. So, check out our Tank Wash Finder, and to learn more about our freight services, contact Bulk Connection today.