If you're tasked with shipping bulk chemical products, there's a few things you should understand about chemical transport before you pick up the phone and call a carrier or freight broker. After all, shipping a chemical product in a bulk liquid tank or dry bulk trailer is a potentially volatile situation, setting it apart from other modes of transport. In this article, we'll share a few of the most important tips for getting your products on the move safely.
5 key chemical transport tips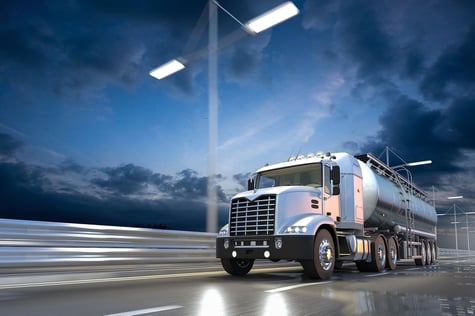 1. Know your product. If you're a frequent reader of this blog, we may sound like a broken record. But the single most important component of the chemical transport process begins with all parties clearly understanding the chemical being shipped. This begins with you, as the shipper, informing your transportation partner of your product's characteristics. A lack of understanding or inaccurate information at the outset can result in damage to your product, to the equipment used to haul it, and possibly to the public at large.


Among other information, "knowing your product" entails being able to provide the product's Safety Data Sheet (SDS) to your transportation providers so that they can understand additional product specifics like:
Density: The weight per gallon will help us determine the number of trucks required to handle a shipment
pH: The product's pH level will tell us what types of tanks or trailers it can be safely transported in (e.g., low pH items will require rubber-lined tanks which are harder to come by than stainless steel and aluminum)
Viscosity: The product's viscosity will tell us whether the product can be pumped or if an air compressor can be used
2. Know your product's equipment needs to the extent possible. Once your chemical transport partner has your SDS and understands your product, it will be able to start matching the product to the appropriate equipment – and then sourcing that equipment for your load.


If you are aware of any specific equipment needs, be sure to share them with your partner. In most cases, your provider will understand your product's equipment requirements – but any information you have can further ensure the safety of your product and the equipment hauling it. Some helpful pieces of information include:
Can the product be shipped in a stainless-steel tank? Aluminum? Specialized container?
Are there temperature requirements (i.e., must not fall below a certain temperature)?
If liquid bulk, does the product foam?
Are there incompatible prior products (i.e., other types of products that must not have been in the tank or trailer prior to yours)?
3. Share loading and unloading SOPs. In addition to ensuring that your product is transported safely and efficiently, your transport provider also needs to know what to expect at the loading and unloading facilities.

At some facilities, for instance, the driver pulls in, hands paperwork to the security guard, drives to the loading/unloading point and then simply sits in his or her cab while onsite personnel handle all of the loading/unloading.

At other facilities, the opposite is true. The driver may be expected to hook up hoses and perform the entire loading/unloading him or herself. There may be safety videos or short training classes that the driver must watch either on premises or prior to arrival. There may be specific forms of identification required in order for the driver to get loaded/unloaded.

All of this information is important to know ahead of time so that your transportation partner can prepare and avoid delays.

4. Inform your transportation provider of blind shipment products. While it's relatively common practice within the chemical industry to have one product marketed under different names, it's important that you notify your provider of any discrepancies.


To illustrate, a driver once arrived at a plant to load a liquid chemical. However, the product listed on the SDS sheet, the product listed on the paperwork given to the driver at the loading facility, and the original product name given when the load was booked were three different product names. The driver was pulled over during a random DOT stop and he was written up due to these discrepancies.

From the perspective of the DOT or local law enforcement, they had no idea what was actually in the tank. Should something go wrong with the load, local officials would have no idea what chemical they were dealing with. So, to avoid headaches (and fines) for all involved, be sure that your transportation provider understands the product it is carrying.

5. Vet your carriers. You don't want to entrust your products to just anybody. You need to make sure that the chemical transport provider you choose is up to date with all necessary paperwork and certification requirements.


Such documentation includes the company's motor carrier number, operating authority, federal I.D. number, hazmat certification, insurance information and TSA certification. It also includes information related to its drivers such as CDL endorsements and Transportation Worker Identification Credential (TWIC®), which is required by the Transportation Security Administration (TSA) for drivers who wish to enter ports and government facilities.

When you work with a bulk freight broker instead of dealing with carriers directly, however, this vetting process can be taken off your plate. At Bulk Connection, for instance, we have a compliance department whose sole responsibility is the acquisition and management of carrier documentation.
Lean on Bulk Connection for chemical transport
From vetting carriers to helping you match your product to the right carrier and equipment, Bulk Connection can guide you through the entire chemical shipping process. We've been helping companies do just that since 1987. Chances are, whatever you're shipping, we've handled it before – likely many times before – and know just how to get the job done. To learn more about our services, contact Bulk Connection today.