As the famous shampoo commercial says, "you only get one chance to make a first impression." Now more than ever, dry bulk shippers need to make a good first impression with the pneumatic truck carriers that haul their loads. In this article, we'll explain why this is important and how you, as a shipper, can go about making that good first impression.
The current pneumatic truck carrier climate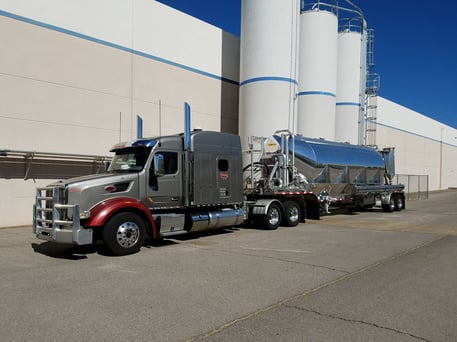 As you know by now, pneumatic truck carriers are hard to find. Capacity is as tight as it's ever been and shows no signs of increasing any time soon.
When you're fortunate enough to find capacity in this type of market, you need to leave a favorable impression with your carrier so that it wants to haul future loads. The more carriers that want to work with you, the easier it will be to get freight moved. This is vital at a time when carriers have more loads than they can possibly handle and can be very selective about the shippers they work with.
Tips for loading and unloading pneumatic truck carriers
Here are some tips for making a good impression on carriers.
Allow bigger windows for shipping and receiving. The more flexibility you can give carriers, the more likely it is that they can fit your loads into their schedules. Carriers are looking to haul more freight in less time, so if you leave them room to fit your products' loading or unloading in alongside other work that's a major advantage.
Open on nights and weekends, when necessary. We get it, no one wants to open up a facility and bring in staff during hours that the facility is normally closed. However, this is sometimes necessary to obtain capacity. Carriers are operating around the clock. If you can make your facilities available at the times that are most convenient for them, you greatly improve your chances of securing capacity.
Inspect trailers quickly. Once you pin a carrier down for a loading or unloading time slot, do your best to make the experience a breeze for the driver(s). This includes inspecting the trailer quickly prior to loading so that the driver isn't waiting around for long periods of time and wasting his or her valuable hours of service (HOS).
Know and communicate your facility details and potential issues. Do you have a scale on site? If not, how close is the nearest scale? How many trailers can your facility load or unload in a day? Are there appointments or is it first-come, first-serve? If the latter, are trucks backed up as soon as the facility opens? These are the types of things your carrier needs to know so that it can better plan its visit and schedule its day. The more information you communicate at the outset, the more prepared (and appreciative) the carrier will be.
Make sure your silos have room. This should go without saying, but our experience is that it needs to be said. Perhaps the quickest way to make an unfavorable impression with a carrier is to have its driver arrive at the unloading site before you realize that the silo or railcar he or she needs to unload into is already full. When this happens, the driver is typically stuck at the facility for several days, tying up valuable equipment and driver HOS in the process. This is not only a surefire way to rack up a big detention charge, it may also lead the carrier to turn down all future loads.
For even more tips on making a good first impression and keeping your product safe, check out our articles on bulk freight SOPs related to shipping and receiving, and making your dry bulk freight more attractive to carriers.
Lean on Bulk Connection to find pneumatic truck carriers
Bulk Connection is a 3PL freight broker with one of the largest networks of dry and liquid bulk carriers in North America. And we do much more than play the role of matchmaker for your freight. We fully vet each carrier in our network and walk you through the booking process so that you leave a good impression with your carriers for your first load – and every load after that. To learn more about partnering with a true bulk freight expert to move your products, contact Bulk Connection today.