We've all read about the aging driver workforce, lower unemployment rates and other factors that contribute to driver shortages and related truck capacity challenges. But for tank trucks, there's another far more potent contributor to freight capacity challenges. And, while this factor comes and goes, it never truly goes away.
We're talking about seasonality and how the shipments associated with each of the four seasons of the year can make bulk capacity a little harder to come by.
Seasonal considerations for tank truck transport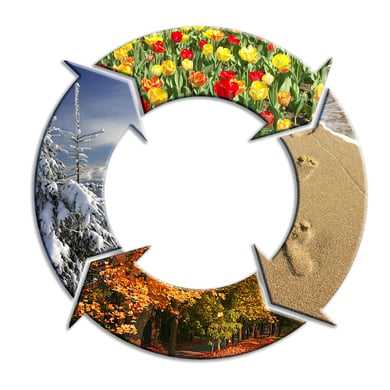 In addition to the wide array of chemical products and materials that tanker trucks ship all year round, there are some that are hauled during specific times of each year. The industries behind these products can absorb much of the available tank truck capacity during their key sales periods.
As we start the year in January, winter is well underway and your toughest challenger for capacity is going to be ice melt. Yes, ice melt. There is a range of ice-melting products that are used by airports and DOTs across the country throughout the winter. These products are shipped in both liquid tanks and bulk trailers and serve to keep runways and roadways free of ice. These products ship at a very regular pace between late November and mid-to-late February.
There is a brief lull at the end of winter when the ice melt demand has subsided. This lull only lasts about a month or so, however, when wood treating materials, deck stains, paints, herbicides, fertilizers, and asphalt additives for road repair and paving start shipping. Some of these items, like herbicides and fertilizers, will eat up capacity well into late summer.
Capacity tends to ease up a bit as we head in to fall. But, as fall changes to winter, we head back into ice melt season and repeat the cycle anew.
Don't forget rail interruptions
While the above schedule may provide capacity challenges, there's at least a predictable ebb and flow to it that you can plan for. This planning can go out the window quickly, however, when rail interruptions occur. Most common in the winter (snowstorms) and spring-into-summer (hurricanes and tropical storms), these rail interruptions can eat up tank truck capacity. Why? Because when the rails are shut down, trucks must swoop in to keep the supply chain moving, monopolizing many trucks for days or even weeks.
Tips for securing tank truck transport all year
Between seasonal challenges, rail interruptions and the now-normal headaches related to driver shortage, chemical capacity isn't always easy to come by. But, you can better your odds of securing capacity when you need it by following these tips:
Become a shipper of choice. It used to be that carriers had to woo shippers to gain favor and secure loads. These days shippers must make their loads attractive to carriers that have plenty of loads to choose from. Doing this requires that you become a "shipper of choice." How does one become a shipper of choice? It often comes down to simple courtesies:
Be flexible on pickup and delivery times
Communicate with carriers so that both of your needs are met
Make sure loading and unloading points are easy to get into and out of
Offer amenities to drivers during wait times
Give as much lead time as possible when booking a load
Form closer, strategic relationships with carriers. When capacity is tight, transportation providers will likely handle the loads of the shippers they haul for often and with whom they have a longer-term, trusted relationship. If you don't currently have these types of relationships with carriers and freight brokers, now is a good time to begin developing one.
Turn to Bulk Connection for a true transport partnership
With one of the largest tank truck networks in North America, Bulk Connection can often provide chemical capacity when others can't – no matter what season it is. We also believe in forming true partnerships with our shippers. This means that an actual person with bulk transport experience and knowledge of your product (our agents average almost 20 years in the industry) will guide every aspect of your shipment, from soup to nuts. He or she will also remember you and your product the next time you need to ship – something you won't find on an automated load board. To learn more about our services, contact Bulk Connection today.