With capacity so tight over the past few years, the role of the bulk freight truck driver has received a lot of attention. Specifically, "why don't we have enough of them?" The short answer is that there is a truck driver shortage across all modes of trucking. As bulk trucking is a smaller, specialized subset of the larger trucking industry, these drivers are even harder to come by. Not just any driver can haul bulk freight. In this article, we'll examine the question "what is a tanker endorsement?" and review the different requirements that drivers of bulk goods must meet.
Bulk truck drivers are specialized professionals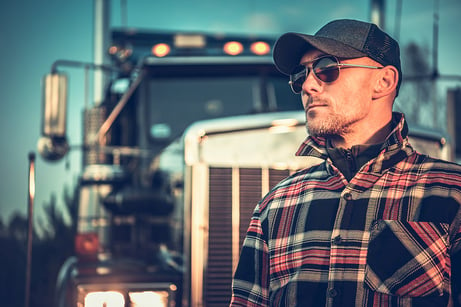 Compared to regular dry van trucking, it's much longer process to become a bulk truck driver. Drivers don't simply go to truck driving school and then get behind the wheel of a liquid or dry bulk tanker truck. Drivers almost always start with dry van transport.
If the driver does well for a few years and has a clean record, he or she may find a bulk carrier willing to provide training for a tanker or dry bulk position. However, due to the higher risks and costs involved (e.g., insurance premiums), most carriers won't take a chance on a new driver until he or she has at least 4 years of flawless dry van driving. And, even then, you're looking at 3-6 months of training until the driver is on his or her own.
What is a tanker endorsement?
A tanker endorsement is a special endorsement that is added to a commercial driver's license (CDL) to allow the driver to operate a tanker truck. The endorsement signifies that the driver has been trained and has demonstrated the knowledge and skills necessary to safely operate the equipment. Such an endorsement is required for any driver who will be operating a commercial vehicle that transports liquid or gaseous materials in bulk, including chemicals or hazardous materials.
Liquid bulk truck drivers may need the following tanker endorsements, depending on the type of cargo they transport.
H Endorsement: required for drivers who transport hazardous waste in a tanker vehicle, including materials that are toxic, corrosive, or reactive.
N Endorsement: required for drivers who transport hazardous materials in tanker vehicles, including flammable and combustible liquids, corrosives, and poisonous materials.
P Endorsement: required for drivers who transport liquids or gases in bulk tanks or portable tanks, including non-hazardous liquids or gases in a tanker vehicle.
X Endorsement: required for drivers who transport a combination of hazardous materials and other cargo. This endorsement covers the transportation of both hazardous and non-hazardous materials in a tanker vehicle.
Drivers are required to pass a written test and a skills test to obtain each of these endorsements.
Truck drivers hauling a dry bulk trailer typically do not require a tanker endorsement, as dry bulk trailers are designed to transport solid materials rather than liquids or gases. However, depending on the cargo being transported, drivers may require an H, P or T endorsement.
The T endorsement is required for drivers who haul double or triple trailers. While this endorsement is not specific to dry bulk trailers, it may be required for drivers who haul multiple trailers as part of their job.
Why this should matter to shippers
When you're looking for a carrier to haul your bulk products, safety is paramount. It is therefore imperative that you know that your carrier – and each of its drivers – meets all necessary requirements. This includes ensuring that drivers have current CDLs with all necessary endorsements. Drivers who wish to enter ports and government facilities will also need the Transportation Worker Identification Credential (TWIC®), as required by the Transportation Security Administration (TSA).
But that's not all.
There is a lot of information you need to obtain for each carrier that you consider for the job. Acquiring this information for several different 'candidate' carriers can be a time-consuming process. To illustrate just how time-consuming, let's take a look at what we do here at Bulk Connection as a freight broker specializing in chemical and hazmat freight:
For starters, we have a compliance department whose sole responsibility is the acquisition and management of carrier documentation. Our bulk freight carrier network consists of hundreds of bulk trucking companies across North America, and the records for each must be kept up to date. For instance, when insurance or a certification expires, the compliance department will work to obtain new information from the carrier before any further loads can be offered.
Similarly, there is a thorough vetting process that commences when a carrier wishes to join our network. The prospective carrier must complete a thorough questionnaire regarding its product capabilities, personnel, training programs, equipment, experience (we won't work with any company that has less than 2 years of hazmat trucking experience), and other information, while also submitting a host of additional documents. These documents include the company's motor carrier number, operating authority, federal I.D. number, hazmat certification, insurance information and TSA certification.
This information is kept current in our database, and freight agents can only book loads with carriers that have all required pieces of information 100% up to date. Carriers that have missing or outdated information cannot be selected for a load within our system.
Lean on Bulk Connection for safe bulk freight transportation
In addition to having some of the most stringent carrier-vetting standards in the business, Bulk Connection is one of the few freight brokers that has ISO-9001 certification. This gives our customers further assurance that every single detail of a shipment will be handled in accordance with strict quality protocols. To learn more about entrusting the transport of your products to true experts, contact Bulk Connection today.