In our ongoing feature, we will periodically profile the men and women who make Bulk Connection a trusted freight partner. In this article, Kate Henry, Customer Service Representative (CSR), talks about her role at Bulk Connection and what it's like in the industry during such a tumultuous time.
What is the role of a CSR at Bulk Connection?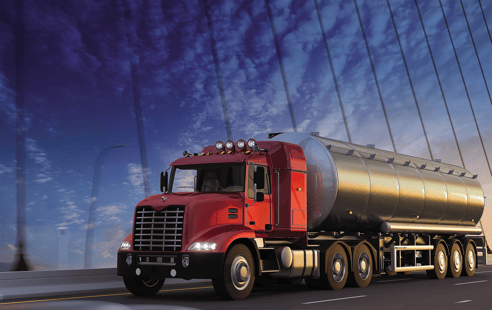 It's matching shippers' loads with carrier availability and then helping to manage those shipments as they make their way to their final destinations. We give shippers the peace of mind that their products are being handled by qualified carriers, and we give carriers the ability to haul more loads and keep shipments moving through their lanes. In short, we try to make everyone happy. A win/win situation is always the goal.
Can you tell me about what your role looks like on a given day?
Most days, I'm working either with one of our regular shippers or a new shipper that one of our Bulk Freight Agents has developed a relationship with.
In the office, we have an in-house transportation management system that tracks liquid and dry bulk carrier schedules. So, I'm comparing shippers' needs with where the trucks are going to be.
I've been working a lot with carriers in the middle of the country lately. Lots of loads between Texas or Louisiana and Ohio. I have a good feel for the carriers in these lanes – where they like to load out of and where they want to drop and reload.
So, a big part of my job is booking the loads and making sure that we have all the details accounted for, like product info, equipment needed, facility details, SDS sheets, fuel surcharges, tank wash details, incompatible prior products, and so on. And then staying in touch with all parties until the load is complete and everybody goes home happy.
Bulk Connection is currently looking to fill a new Dispatcher position.
Contact us today if interested.
With Bulk Connection, I assume you regularly put your problem-solving skills to the test?
Absolutely. There are always situations to address. Even if they're just small issues like scheduling a load with multiple parties or correcting an error within the paperwork. Sometimes there are bigger issues, like when a driver gets tied up at a tank wash and they're not going to be able to make their pickup. In those cases, the driver may begin to panic. But part of my job is to deal with these emergencies, calm everyone down and find a logical solution to the situation.
I love that aspect of the job now but it's something I struggled with when I was new to the bulk trucking industry. Things happen in the logistics world and even the best-laid plans have a way of getting disrupted. But because Bulk Connection has been doing this since 1987, we've seen just about everything before, and we know how to keep a level head and move things forward.
This is a hectic time in the transportation industry. Is capacity easing up?
Not really. Capacity is just as tight as it was last year.
We're very busy. There are some weeks where it looks like the following week is going to be light in terms of shipments and by the time the week arrives, it's completely full – if not bursting at the seams with loads.
It's a carrier's market right now due to the driver shortage hurting capacity, while shippers' demand for bulk trucking is as high as ever. Carriers can basically pick their loads and decline anything they don't want – for instance, from shippers they want to avoid
So you've seen carriers refuse certain loads?
Not refuse. I have seen carriers say, "I won't take that load again." That's typically because their driver had to wait too long to load or unload and it messes up their schedule due to the domino effect with all subsequent loads. That's why it's important for shippers to become shippers of choice, and then stay that way, so that carriers want to work with them.
What's your favorite part of your job?
I really like the atmosphere here; the people and the wisdom in the office with so many people being in the bulk shipping industry for so long. I love coming to work.
The job itself is also exciting and challenging. I get to work with every level of the supply chain. If I'm booking a load from Texas to Cincinnati and then need to secure the next load for the carrier to haul, it's nice to connect all the dots to make both the shipper and carrier happy
What advice to you have for shippers that are struggling with the tight freight capacity?
I'd remind them that freight brokers like Bulk Connection are here to help find capacity for liquid and dry bulk loads. It's a carrier's market, and the trucking companies you always relied on may not be able to help – at least not all the time. Freight brokers can help you find capacity because of the relationships we have with carriers all over North America.
What advice do you have for carriers that haven't yet worked with a 3PL bulk freight broker like Bulk Connection?
I say bring it on! No matter where your preferred shipping lanes are, we've got loads in those lanes that you can haul. And that's true whether you're looking for occasional loads or dedicated ongoing shipments. We are a great partner for a carrier to have, and we are always there to help if there's an issue.