In our ongoing feature, we will periodically profile the men and women who make Bulk Connection a trusted freight partner. In this article, Charles Kilzer, Director of Business Development, talks about Bulk Connection's freight agents and how they add value for our customers.
What is the role of the freight sales agent at Bulk Connection?
It's simple: identify an opportunity, establish a relationship, get the business started and keep your arms around the business.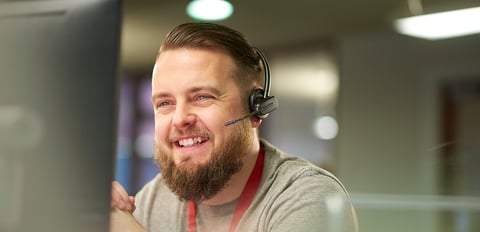 Bulk Connection is somewhat unique in this regard in that the agent's primary responsibilities end once the job is quoted and operations are ready to get underway. Once you connect us with your customer, we receive each load request, book the freight, do the paperwork, monitor the shipment and handle any hiccups. We do the work; agents get a commission. Simple as that. With other logistics companies, agents may have more responsibilities that extend into day-to-day operations, but at Bulk Connection the agents' focus is on selling and scaling up their book of business.
What did you do prior to working for Bulk Connection?
I worked in operations and then administration within the utilities industry. From there, I worked for an asset-based hazardous waste trucking company and then an asset-based chemical carrier. I started working with Bulk Connection almost 17 years ago.
Having been on the asset-based side, how has your view of freight brokers changed?
I used to wonder: 'why would anyone use a broker?' Then, when I partnered with Bulk Connection, that changed to: 'why would anyone not use a broker?'
A huge difference between the two worlds is one of "focus." In the asset-based world, you have the trucks, the drivers, the training, and it's all top notch and you figure you have everything a customer could ever need.
But the focus in the asset-based world must be on asset utilization and personnel retention. For example, I was working for a terminal in Charlotte. We had 30 trucks and 45 trailers, a tank wash facility onsite, IBCs etc. We had one terminal manager and two dispatchers so when they came into work every day, their focus was on asset utilization, safety, driver utilization, security...the list goes on and on. These were the KPIs that those managers were measured against every month, quarter, and year – it's what their paychecks (and bonuses) were tied to.
At Bulk Connection, our focus is solely on the customer's satisfaction. I like to say that we have a 1,000-foot view of transportation operations. We are not dealing with asset utilization and personnel issues (e.g., a driver is out sick or has a family emergency), we're dealing solely with the customer. The customers have loads that need to be picked up and delivered. If one carrier in our network has issues and can't do it, we'll move that load somewhere else. We're managing relationships with hundreds of carriers and customers, but our customers' needs always dictate the carriers we put on a given load.
Are there differences in the needs of large and small/mid-sized shippers?
The big shippers with large logistics teams need us mainly when they have supply chain disruptions. These problems can include global pandemics like COVID-19 or even more frequent events such as temporary capacity issues, dropped loads, last minute orders, railroad interruptions, storms, etc. When these disruptions happen – and a shipper's regular carrier cannot provide transportation – Bulk Connection will step in as a backup.
For the smaller-to-mid-size shippers on the other hand, we can act as their logistics department. Many of these smaller companies used to have two or three people managing what one person manages today. So, people are stretched thin. Technology can help in some cases, but the bulk freight industry is a different animal. It is more specialized, so experience and knowledge really matter. We can step in and provide that experience and knowledge. This is extremely helpful when there's a problem with a shipment.
How are shippers changing their approaches in this current environment?
COVID-19 has given every company in the world justification to evaluate every aspect of their business. Whether you're a peanut farmer or a chemical manufacturer, the outbreak has done something to test your supply chain.
Because of this, executives are analyzing and reevaluating operations. Prior to the pandemic, many shippers – even large ones – were leaving key shipping decisions to lower-level employees. That person then just sends out a blast to 10-20 carriers saying, "I've got this load, give me your best rate." Typically, this does not produce any appreciable savings or lead to beneficial relationships. When the next capacity crunch occurs, who will the shipper turn to for help?
So, what I see happening now is that shippers are looking for partnerships with transportation providers they can plan with and rely on. This often works as a managed transportation arrangement in which a shipper can come to a broker like Bulk Connection and say, "we want you to manage this portion of our business on a long-term agreement." The broker can then act as a logistics division for the company that can aid in planning, managing risk and adapting to changing industry needs.
What are the characteristics of a good freight agent?
The best freight sales agents are good at developing relationships, have an overall knowledge of the transportation business and are persistent in prospecting and closing on new business. Working with Bulk Connection is ideal for folks that have been in the transportation and/or bulk transportation industry with carriers, shippers, or other brokerage firms. From there, it's just a matter of sharing the Bulk Connection story and helping shippers understand how we can help them.
If you are interested in becoming a freight agent with Bulk Connection, please contact us today. If you are interested in Bulk Connection's shipping solutions for your company's supply chain, please contact Charles directly.