Heading into the home stretch of 2022, conditions in the bulk trucking industry remain largely unchanged since the beginning of the year. Capacity is still a concern, and the truck driver shortage continues to loom large. In this article, we'll break down what we're seeing out there from a bulk freight broker viewpoint.
Bulk trucking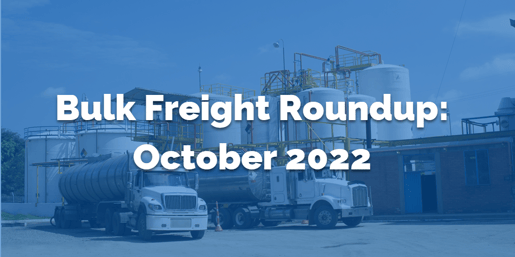 Capacity – The good news for shippers is that capacity is slowly and steadily becoming easier to find. We're seeing capacity ease up in most lanes throughout North America, across both liquid and dry bulk. While advance booking will always improve your chances of moving freight, we're able to accommodate shorter shipping windows than we were earlier in the year.
Fuel – The cost of fuel remains a wildcard and continues to impact carrier rates. After a major rise in fuel costs earlier this year, prices had declined. However, the recent news that OPEC is cutting oil production may cause prices to rise again. This is one area that the entire industry continues to monitor closely.
Costs – Across all modes of trucking, industry experts are currently seeing rates fall as demand drops. However, these drops are less significant within the specialized worlds of liquid and dry bulk trucking where demand, though down slightly, remains strong.
In a recent blog post, we looked at the American Transportation Research Institute's (ATRI) 2022 Operational Cost of Trucking report. This report revealed that the cost of trucking increased by the highest recorded percentage between 2020 and 2021. In addition to fuel costs, which were 35% higher in 2021 compared to 2020, other contributors to the rise in trucking costs include:
Truck/trailer lease or purchase payments – Up 3% in 2021 from 2020
Repair and maintenance – Up 18% in 2021
Driver wages – Up 11% in 2021
Driver benefits – Up 6% in 2021
From where we sit, many of these numbers continued to climb in 2022.
The driver shortage – In the bulk freight world, the demand for trucking services remains healthy. We hear many carriers say that they could haul a whole lot more freight – if they only had the drivers. This familiar refrain has been heard throughout the industry for several years, and is unlikely to let up anytime soon.
Progress has been made in attracting more drivers in the dry van world. You have large companies like Walmart paying drivers as much as $110,000 during their first year, while offering sign-on bonuses and stout benefits. It's a model that many other large companies are using successfully to lure drivers.
Within the world of bulk trucking, however, improvements don't happen so quickly. It's a longer process to become a bulk truck driver. Drivers don't simply go to truck driving school and then get behind the wheel of a liquid tanker or dry bulk truck. Bulk drivers almost always start with dry van transport. If the driver does well for a few years and has a clean record, he or she may find a bulk carrier willing to provide training for a tanker or dry bulk position. However, due to the higher risks and costs involved (e.g., insurance premiums), most carriers won't take a chance on a new driver until he or she has at least 4 years of flawless dry van driving. And, even then, you're looking at 3-6 months of training until the driver is on his or her own.
While there are positive trends evident within the trucking industry at large, those trends will take a while to trickle down to the bulk trucking world.
Continuing to support our shippers and carriers
We continue to do all that we can to support our customers and carriers alike – finding capacity for our shippers and going the extra mile to make our loads easy for carriers to handle. This includes bringing new carriers into our network to provide more coverage for our customers.
To learn more about working with Bulk Connection and putting our North American bulk carrier network to work for you in the months ahead, contact us today.