In a rare piece of good news these days, an agreement was reached late last week that prevented – at least for now – a potential nationwide strike of railroad workers. But the fact that such a rail stoppage was a real possibility has shippers considering emergency freight solutions. In this article, we'll discuss the current state of rail, and tell you how 3PL bulk freight brokers can fill in the gaps created by rail interruptions with trucks to keep your supply chain moving.
The current state of rail
On Thursday, September 15, the largest railway companies in the US reached a tentative agreement with the 12 largest railroad worker unions. The deal was brokered with intervention from the federal government and was reached less than 24 hours before labor strikes were due to commence.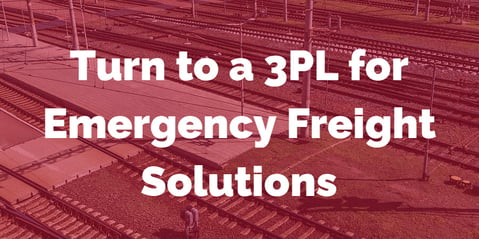 According to the Association of American Railroads (AAR), a nationwide rail shutdown could have cost the economy more than $2 billion per day.
You might ask, "so a deal was reached and everything is peachy now, right?" Not so fast. Yes, the tentative agreement is good news. But the situation is still unresolved. Of the 12 major rail worker unions in the US, only 2 have formally agreed on a new contract; 1 rejected a contract and is heading back to the negotiating table; and the remaining 9 unions will vote on contracts over the next two months.
Many workers are dissatisfied with the tentative agreement and demand that worker conditions are improved further.
While the situation certainly appears more promising than it did earlier this month, there is still far to go until the finish line is reached.
As the federal government's attention remains on the rail situation, other business groups are seizing this opportunity to draw attention to what they refer to as "chronic disruptions" on the part of rail companies. In an article published in The Hill, groups like farmers, automakers, and retailers are calling on Congress to pass legislation that limits rail disruption.
"On average, roughly 70 percent of railcars reached their destination on time since May, when the Surface Transportation Board (STB) began requiring railroads to submit performance data. Railroads fulfilled 87 percent of pickups and deliveries over the same four-month period."
The Freight Rail Shipping Fair Market Act has been unveiled in the House and would provide the STB with new funding and the authority to "establish minimum service standards, incentivize more efficient shipping practices, speed up dispute resolutions and block price hikes during rail emergencies, among other measures."
This bill has backing from such powerful organizations such as the American Petroleum Institute and the American Farm Bureau Federation.
Need emergency freight solutions? Turn to a 3PL bulk freight broker
While these rail-related issues are making waves in the news as of late, people who work with and within the rail industry understand that rail disruptions are nothing new.
The most common rail interruptions are weather related. Snowstorms, hurricanes, tornadoes, and floods all wreak havoc on rail systems and can shutdown service for days or even weeks.
A compounding factor, as reported by The Hill, is that "the freight carriers laid off nearly 30 percent of their workforce over the last six years, with most of the cuts coming before the pandemic. That left them unprepared for the recent explosion in demand for goods."
So where does all this leave you as a shipper?
It leaves you in need of emergency freight solutions when your rail freight isn't moving as it should.
When normal rail service is interrupted by storms and other hazardous events, you can partner with a 3PL bulk freight broker for emergency freight assistance. Such a freight broker can source trucks from its network to get your products off immobile railcars and into bulk tanks or trailers and then on to their destination(s).
A few examples of emergency bulk freight solutions we've implemented at Bulk Connection include the following.
There were serious rail delays into Stockton, CA from the East. A corn starch manufacturer's regular bulk shipments to its Stockton facility were going to be significantly late. Bulk Connection was able to source capacity from its carrier network – 4 dry bulk trucks/trailers out of Iowa, and 4 from Illinois. The trucks were loaded, headed West, and the pinch of the rail delay was not felt in the supply chain.
A few years ago, a Vermont company that regularly ships calcium carbonate (used in specialized paper coatings) to paper plants in Maine had its rail operation significantly disrupted. Severe winter weather was the cause. In fact, the weather-related rail disruption was so severe that Bulk Connection sourced – and ran – 4-to-6 trucks a day for over a-month-and-a-half to compensate for the railcars that were out of action.
These are just two examples of situations we encounter – and handle effectively – every year. When rail interruptions strike, we're able to lean on our bulk carrier network, which is one of the largest in North America. With this network, we can bring in trucks from far and wide, whether liquid or dry bulk, to swoop in and get your freight off the rails and onto the road.
To learn more about how Bulk Connection can support your supply chain – whether you're in a pinch or need day-to-day transport services – contact us today.