If you've hired a truck in the past year, the latest report from the American Transportation Research Institute (ATRI) will come as no surprise to you. In its 2022 Operational Cost of Trucking report, the ATRI revealed that the cost of trucking increased by the highest recorded percentage between 2020 and 2021. In this article, we'll take a closer look at the report and tell you why operating costs for bulk trucking companies are even higher.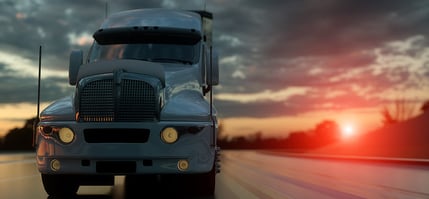 According to an article in Bulk Transporter, the total operational cost of trucking increased by 12.7% in 2021. Unsurprisingly, rising fuel costs – which were 35% higher in 2021 compared to 2020 – were the biggest contributor to this increase.
Other contributors include the following.
Truck/trailer lease or purchase payments – Up 3% in 2021 from 2020
Repair and maintenance – Up 18% in 2021
Driver wages – Up 11% in 2021
Driver benefits – Up 6% in 2021
This report focuses on for-hire trucking (as opposed to private fleet trucking) across all modes of trucking (of which dry van is by far the most predominant).
The report also showed that smaller fleets (those with 100 or fewer trucks) spent almost 5 cents more per mile than larger fleets (a lower difference than in years past). Smaller fleets tend to pay more on insurance premiums, while larger fleets pay more in incident costs.
Looking toward the future, the ATRI had the following to say. "(In the) second half of 2022 and to 2023, inflation will be a major concern for all cost centers. Wholesale inflation, as measured by the producer price index, rose at a rate of 11.4% year-over-year in June 2022, even faster than consumer inflation. Roughly half of this increase is attributable to rising fuel prices."
The report was largely optimistic about the state of trucking. Reasons for optimism include the strong financial health of trucking companies, reductions in deadhead miles, and improved fuel economy.
Bulk trucking companies have even higher operating costs
While operating costs have increased across all modes of trucking, the increases are even more severe for bulk trucking companies due to the following reasons.
Fuel costs are higher. While dry vans can arrive at the loading or unloading sites and turn the engine off while product is on/offloaded, liquid and dry bulk trucking companies must keep the engine running to power the loading and unloading equipment (e.g., vacuums, pumps, air compressors). Bulk trucking companies also must factor in visits to tank wash facilities after unloading. The nearest qualified facility can sometimes be more than a hundred miles away, depending on region.
Driver costs are higher. Liquid and dry bulk drivers are far less numerous than dry van drivers and do not typically become bulk drivers until they've driven a dry van for several years and then undergo training. As such, bulk drivers have a highly specialized skillset – and are paid accordingly. There are also far fewer bulk trucks on the road than there are dry vans, and competition for these specialized drivers can be fierce and expensive.
Insurance premiums are higher. Bulk products – especially hazardous chemicals – carry more risk than other loads. Have an accident with a trailer full of groceries and you lose two pallets of Cheerios. In contrast, a tanker truck collision could trigger the shutdown of a multimillion-dollar production line because a crucial raw material has washed over three lanes of Interstate 80. The insurance rates for bulk trucking companies are commensurate with these higher risks.

Turn to a bulk freight broker to navigate rising costs
In addition to offering many advantages than working with a carrier directly, freight brokers that specialize in bulk freight can also help you manage costs. Such freight brokers have vast networks of carriers to choose from and can therefore compare prices on your behalf – all the while ensuring that your freight is only handled by fully vetted, qualified bulk carriers. To learn more about the ins and outs of working with a bulk freight company, contact Bulk Connection today.